Susan I. Blaser, MD, FRCPC
DIFFERENTIAL DIAGNOSIS
Common





Secondary/Acquired from









Hypoxic Ischemic Encephalopathy






TORCH Infections






Nonaccidental Trauma






Meningitis






Fetal Alcohol Syndrome
Less Common





Primary/Genetic with









Gyral Simplification






Cortical Dysplasia






Midline Anomaly






Cerebellar Hypoplasia






Hypomyelination
Rare but Important





Microlissencephaly






Pseudo-TORCH







Progeroid Syndromes



ESSENTIAL INFORMATION
Key Differential Diagnosis Issues





Was head circumference ever normal?






Decreased cranio-facial ratio on sagittal view helpful, tape measure best
Helpful Clues for Common Diagnoses





Hypoxic Ischemic Encephalopathy









Patterns helpful, even if no history









Profound: Atrophy, gliosis posterior putamen, lateral thalami, rolandic cortex






Prolonged progressive: Typical watershed encephalomalacia






Mixed: Features of both, ± calcified thalami












Agents most frequently causing microcephaly









Cytomegalovirus (CMV) most common by far






Rubella (now rare)






Look for cortical dysplasia, periventricular Ca++, hypomyelination (typically associated with CMV)












History is crucial






BUT look for evidence of trauma/fractures on ALL available films






Brain imaging









Global atrophy or hemiatrophy






Hemosiderin












Early infancy: Group B strep the most damaging









Hypothalamus






Chiasm






Inferior basal ganglia






Diffuse cortex, often asymmetric












Microcephaly









By tape measure or MR volumetrics






Anomalies may occur, but not specific






Diffusion tensor imaging (DTI) reported to show abnormal connectivity
Helpful Clues for Less Common Diagnoses











Small, grossly normal brain






Looks like "small, but perfect brain"






Corpus callosum may appear thick, lack isthmus












Any severe, diffuse dysplasia















Holoprosencephaly, agenesis CC






Assess corpus callosum presence, size, shape







Holoprosencephaly









Most severe are the smallest












May be clue to rare disorders









Microlissencephaly






TUBA1A mutations: Lissencephaly PLUS cerebellar hypoplasia






Assess degree of deficiency









Fastigial recess, primary fissure






Degree of vermian lobulation






Tegmento-vermian angle (is the inferior 4th ventricle open?)






Helpful Clues for Rare Diagnoses











"Z-shaped" brainstem






Callosal agenesis






Surface often totally smooth






Very small brain












Aicardi-Goutieres









Autosomal recessive, important to diagnose






Elevated CSF alpha-interferon






Early onset: TREX1 mutation






Late onset: RNASEH2B mutation






Imaging CMV-like






Ca++






Hypomyelination






Atrophy


















Cachectic dwarfism with mental retardation






Disorder of DNA repair






Several mutations known






Lack phenotype-genotype correlation






Facies & neuroimaging progressive






Basal ganglia/dentate Ca++






Demyelination






Atrophy
SELECTED REFERENCES
1.
Gul A et al: Novel protein-truncating mutations in the aspm gene in families with autosomal recessive primary microcephaly. J Neurogenet. 21(3):153-63, 2007
2.
Hassan MJ et al: Previously described sequence variant in CDK5RAP2 gene in a pakistani family with autosomal recessive primary microcephaly. BMC Med Genet. 2007
3.
Kure-Kageyama H et al: A patient with simplified gyral pattern followed by progressive brain atrophy. Brain Dev. 29(6):383-6, 2007
4.
Ornoy A et al: Fetal effects of primary and secondary cytomegalovirus infection in pregnancy. Reprod Toxicol. 21(4):399-409, 2006
5.
Tang BL: Molecular genetic determinants of human brain size. Biochem Biophys Res Commun. 345(3):911-6, 2006
6.
Sztriha L et al: Extreme microcephaly with agyria-pachygyria, partial agenesis of the corpus callosum, and pontocerebellar dysplasia. J Child Neurol. 20(2):170-2, 2005
7.
Abdel-Salam GM et al: Aicardi-Goutieres syndrome: clinical and neuroradiological findings of 10 new cases. Acta Paediatr. 93(7):929-36, 2004
8.
de Vries LS et al: The spectrum of cranial ultrasound and magnetic resonance imaging abnormalities in congenital cytomegalovirus infection. Neuropediatrics. 35(2):113-9, 2004
9.
Riley EP et al: Teratogenic effects of alcohol: a decade of brain imaging. Am J Med Genet C Semin Med Genet. 127(1):35-41, 2004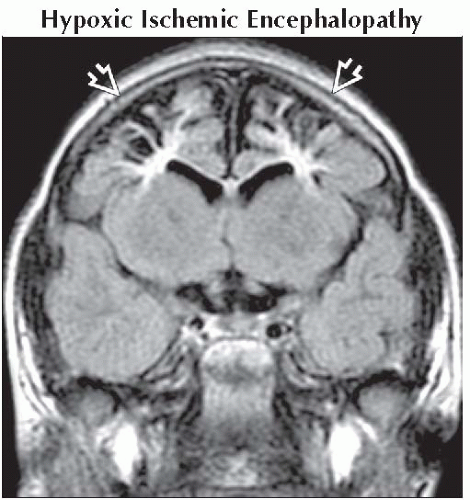 Coronal FLAIR MR shows cystic encephalomalacia

in the border zone distribution in this 3 year old with a history of peripartum prolonged partial asphyxia.
Full access? Get Clinical Tree
Get Clinical Tree app for offline access