9
Quantitative EEG: basics, seizure detection and avoiding pitfalls



Due to technical advances and increased awareness of the high prevalence of nonconvulsive seizures, prolonged EEG recording in the critically ill is standard of care in many centers. It is clear that the majority of seizures in the intensive care unit are nonconvulsive and can only be recognized with EEG. It is also clear that it is labor-intensive to review these studies. Quantitative EEG techniques have helped immensely in speeding this up. Although many are intimidated by these techniques, they are actually quite simple in principle and easy to learn. As software programs have improved, QEEG has become more and more useful. Not only can seizures be detected, but other acute brain events as well, such as ischemia, hydrocephalus, hemorrhage and so on. Several existing software programs will enable one to set alarms and, theoretically, to do true real-time monitoring once the infrastructure has been put in place and someone is available to respond to the alarms and interpret the study (currently only possible in a small percent of institutions). In the not-too-distant future, this type of real-time monitoring, or 'neurotelemetry', will be available in many centers, akin to cardiac telemetry today. This chapter covers the initial basics of quantitative EEG with some of the special indications and uses outlined in a subsequent chapter.




Perhaps the simplest way to consider QEEG is to think of it as an additional montage. As introduced in the very first chapter of this book, selecting a different montage does not change the content of the EEG, but rather how this content is displayed. QEEG merely has the advantage of being able to display hours and even days of EEG on a single page. As previously introduced, different montages (or 'trends', the term commonly used with QEEG) have strengths and weaknesses, and this concept also applies to the use of QEEG. The QEEG can be thought of as a Swiss army knife. As a whole it is immensely versatile. However, the ability to apply it to every situation depends on the understanding of the range of unique tools that it contains. This chapter aims to introduce the abilities of QEEG, demonstrate certain limitations, and most importantly demonstrate how these limitations can often be overcome by knowledge-based selection of a trend best suited to the task.




Quantitative EEG is excellent for detecting seizures, rhythmic and periodic patterns, asymmetries, and for following long-term trends, as discussed in this chapter. The use of QEEG can reduce review times by up to 80% compared to manual screening of the raw EEG, while maintaining good (but not perfect) sensitivity. This can be achieved with appropriate training at a resident level and is easy to incorporate into regular EEG review. Automated seizure detection algorithms have also improved over time and are now at the stage of demonstrating non-inferiority compared to expert review in some studies. The gold standard remains review of the raw EEG; however, QEEG can drastically reduce the time this takes, can highlight subtle features such as asymmetries that can be hard to appreciate, and can easily demonstrate long-term trends, which are often hard to register if looking at the EEG page by page. In addition, it allows detailed, focused review of times of interest (especially times of changing EEG patterns or automated detections) rather than superficial review of all times (as occurs with rapid review of the entire raw EEG). QEEG is particularly useful in monitoring for ischemia; such special applications will be covered in Chapter 10.



9.2 Quantitative EEG: basics
9.3 Quantitative EEG: detection of seizures and rhythmic and periodic patterns
9.4 Quantitative EEG: pitfalls and solutions
Suggested reading


Abend NS, Dlugos D, Herman S. Neonatal seizure detection using multichannel display of envelope trend. Epilepsia. 2008 Feb; 49(2):349–352.

Din F, Lalgudi Ganesan S, Akiyama T, et al. Seizure detection algorithms in critically ill children: a comparative evaluation. Crit Care Med. 2020; 48(4):545–552.

Friedman DE, Schevon C, Emerson RG, Hirsch LJ. Cyclic electrographic seizures in critically ill patients. Epilepsia 2008 Feb; 49(2):281–287.

Haider HA, Esteller R, Hahn CD, et al. Sensitivity of quantitative EEG for seizure identification in the intensive care unit. Neurology. 2016; 87(9):935–944.

Koren J, Hafner S, Feigl M, Baumgartner C. Systematic analysis and comparison of commercial seizure-detection software. Epilepsia. 2021; 62(2):426–438.

Kramer AH, Kromm J. Quantitative Continuous EEG: Bridging the Gap Between the ICU Bedside and the EEG Interpreter. Neurocrit Care. 2019; 30(3):499–504.

Moura LM, Shafi MM, Ng M, et al. Spectrogram screening of adult EEGs is sensitive and efficient. Neurology. 2014; 83(1):56–64.

Ng MC, Jing J, Westover MB. Atlas of Intensive Care Quantitative EEG. 1 ed. New York, Springer Publishing Company; 2019.

Ng MC, Jing J, Westover MB. A primer on EEG spectrograms. J Clin Neurophysiol. 2021.

Scheuer ML, Wilson SB. Data analysis for continuous EEG monitoring in the ICU: seeing the forest and the trees. J Clin Neurophysiol. 2004 Sep–Oct; 21(5):353–378.

Scheuer ML, Wilson SB, Antony A, Ghearing G, Urban A, Bagic AI. Seizure detection: interreader agreement and detection algorithm assessments using a large dataset. J Clin Neurophysiol. 2021; 38(5):439–447.

Shah DK, Mackay MT, Lavery EEG at B S, Watson S, Harvey AS, Zempel J, Mathur A, Inder TE. Accuracy of bedside electroencephalographic monitoring in comparison with simultaneous continuous conventional electroencephalography for seizure detection in term infants. Pediatrics. 2008 Jun; 121(6):1146–1154.

Shellhaas RA, Soaita AI, Clancy RR. Sensitivity of amplitude-integrated electroencephalography for neonatal seizure detection. Pediatrics. 2007 Oct; 120(4):770–777.

Toet MC, van der Meij W, de Vries LS, Uiterwaal CS, van Huffelen KC. Comparison between simultaneously recorded amplitude integrated electroencephalogram (cerebral function monitor) and standard electroencephalogram in neonates. Pediatrics. 2002 May; 109(5):772–779.

Williamson CA, Wahlster S, Shafi MM, Westover MB. Sensitivity of compressed spectral arrays for detecting seizures in acutely ill adults. Neurocrit Care. 2014; 20(1):32–39.

Zafar SF, Amorim E, Williamsom CA, et al. A standardized nomenclature for spectrogram EEG patterns: Inter-rater agreement and correspondence with common intensive care unit EEG patterns. Clin Neurophysiol. 2020; 131(9):2298–2306.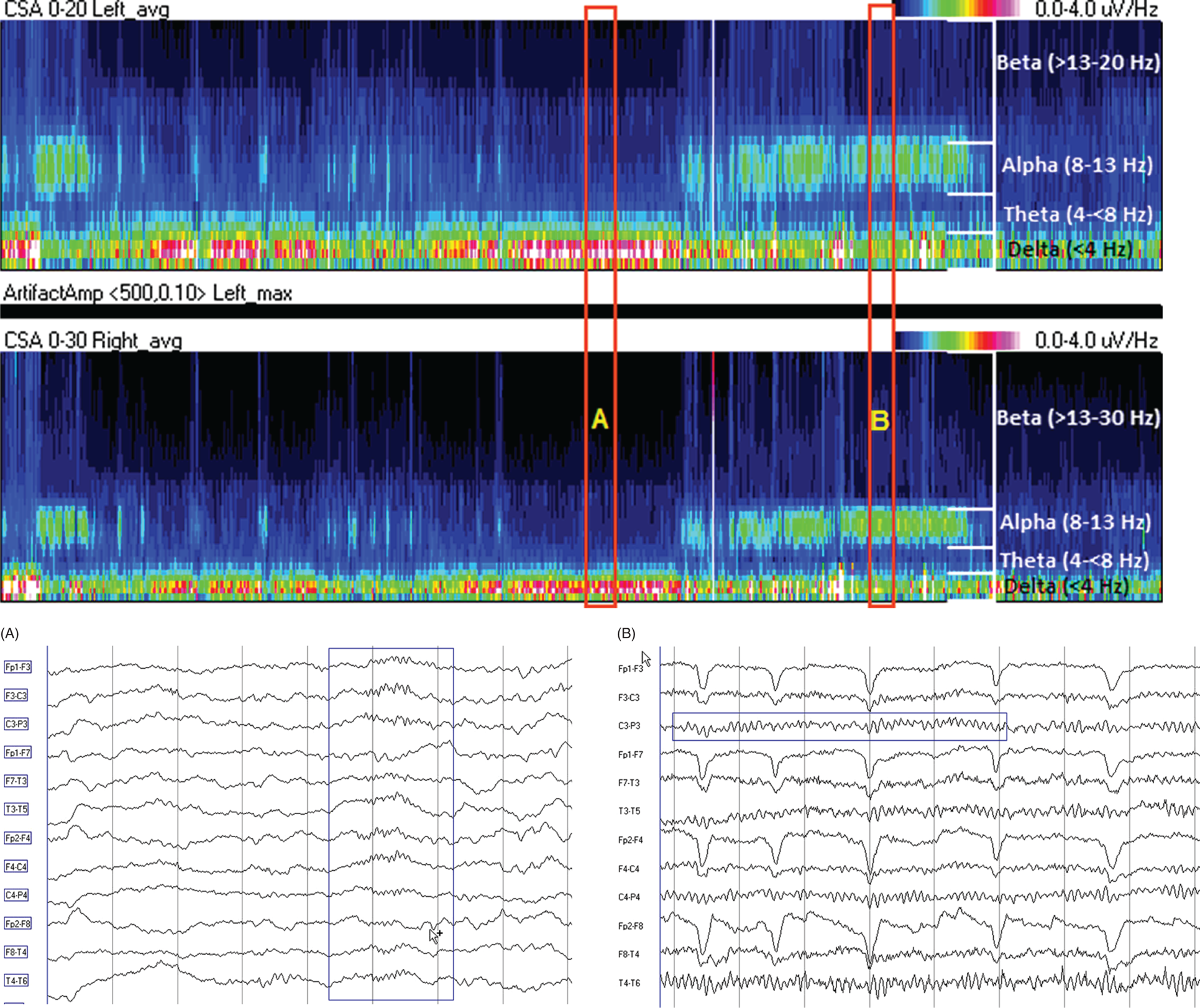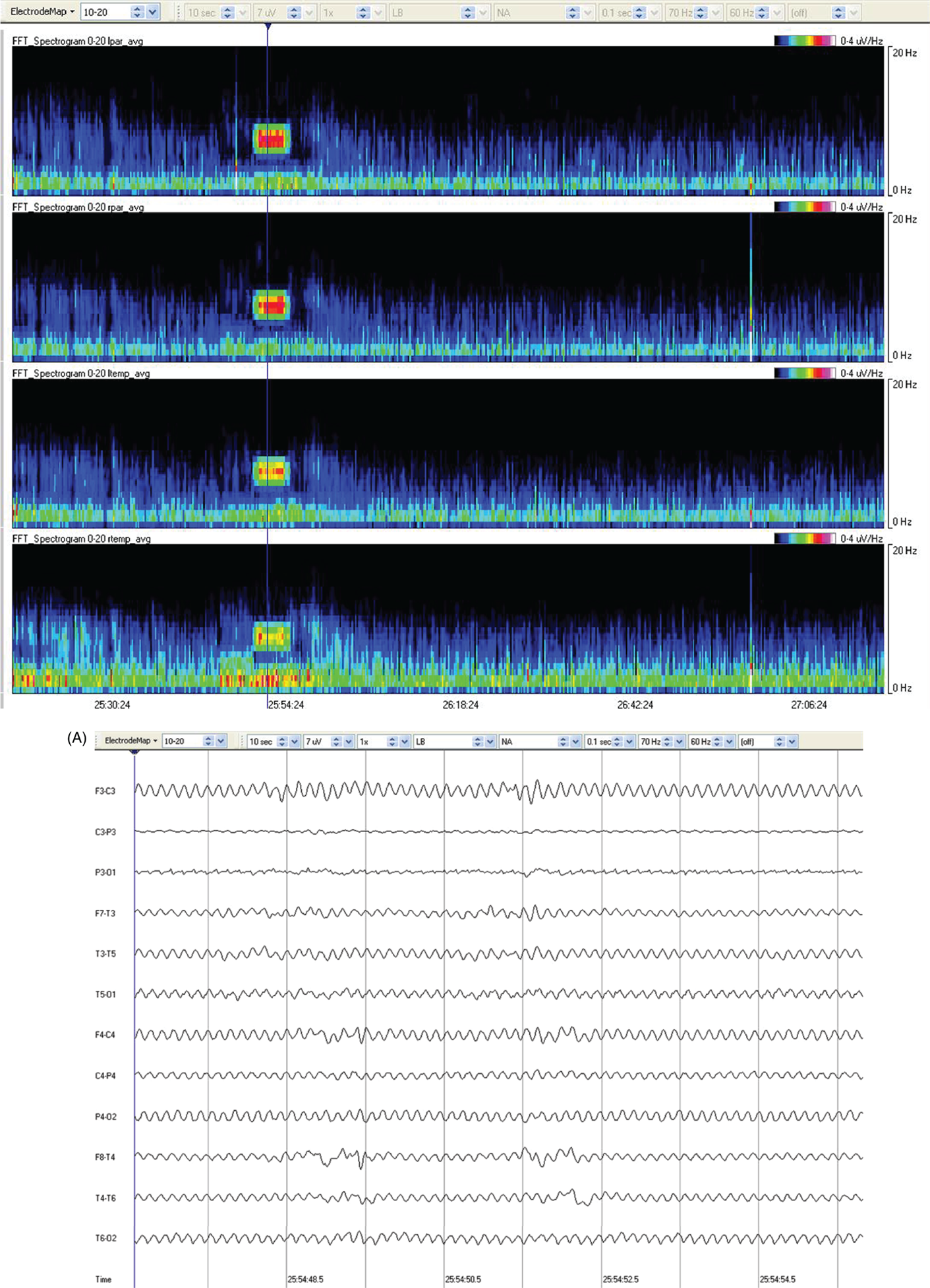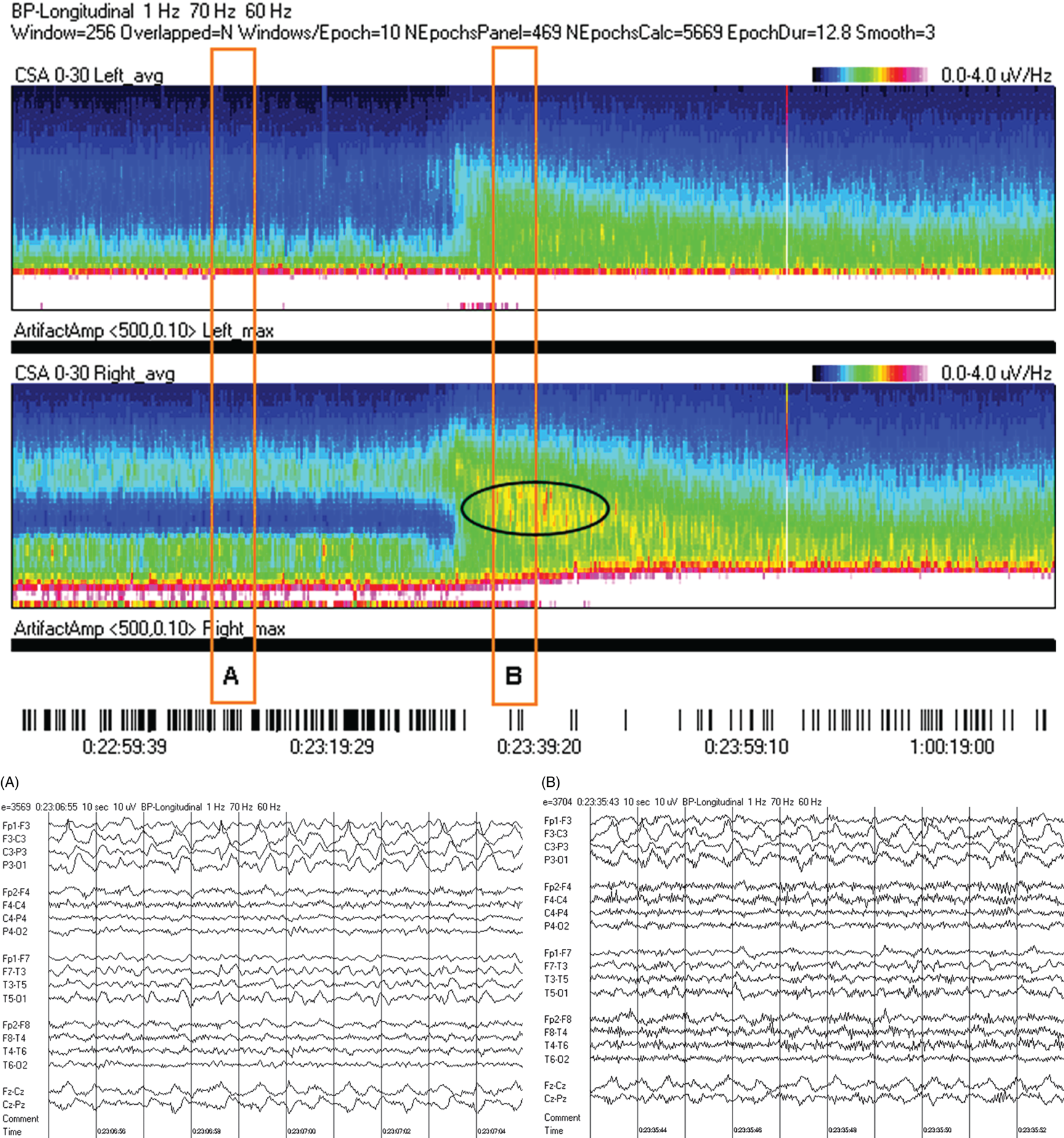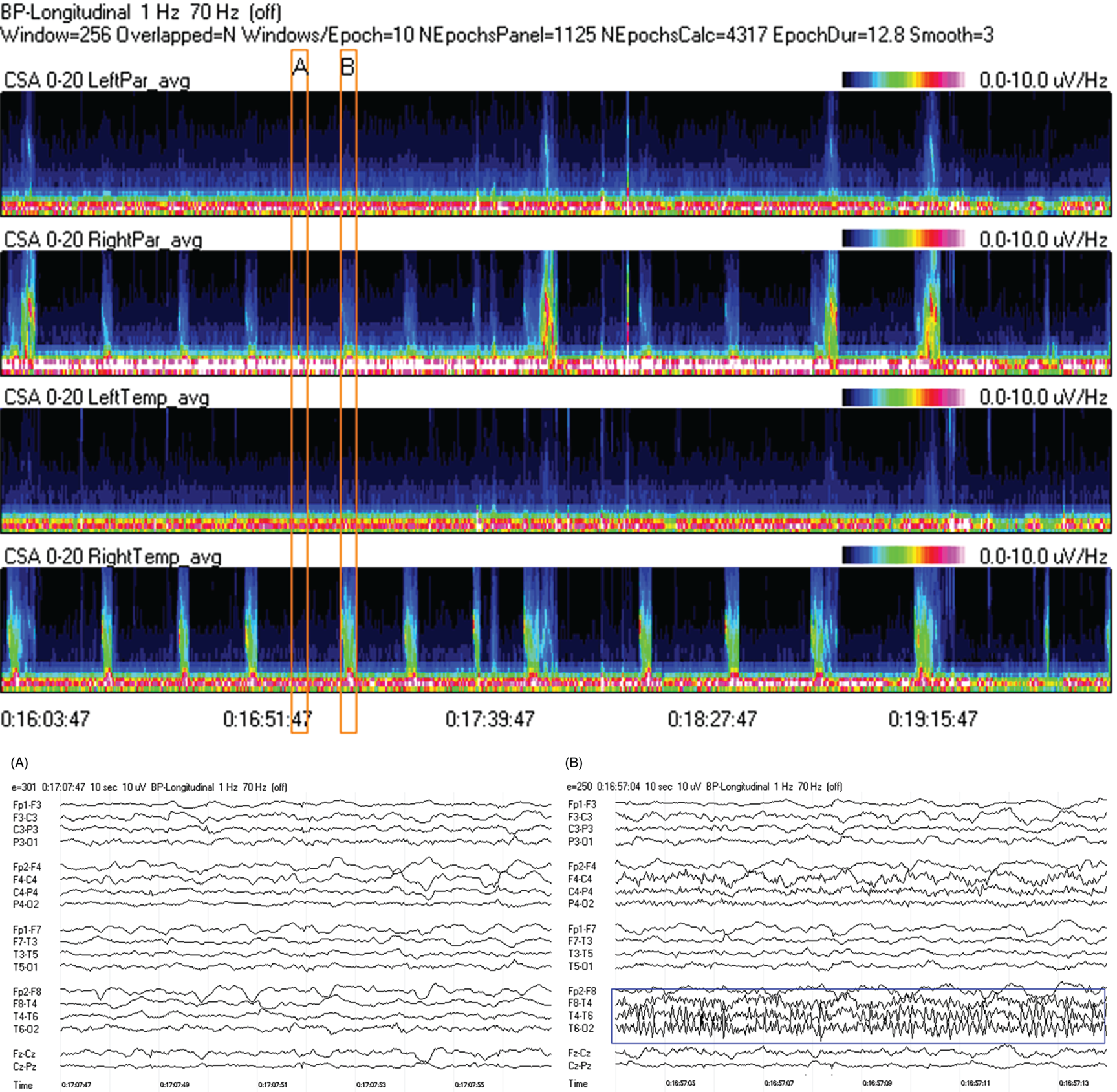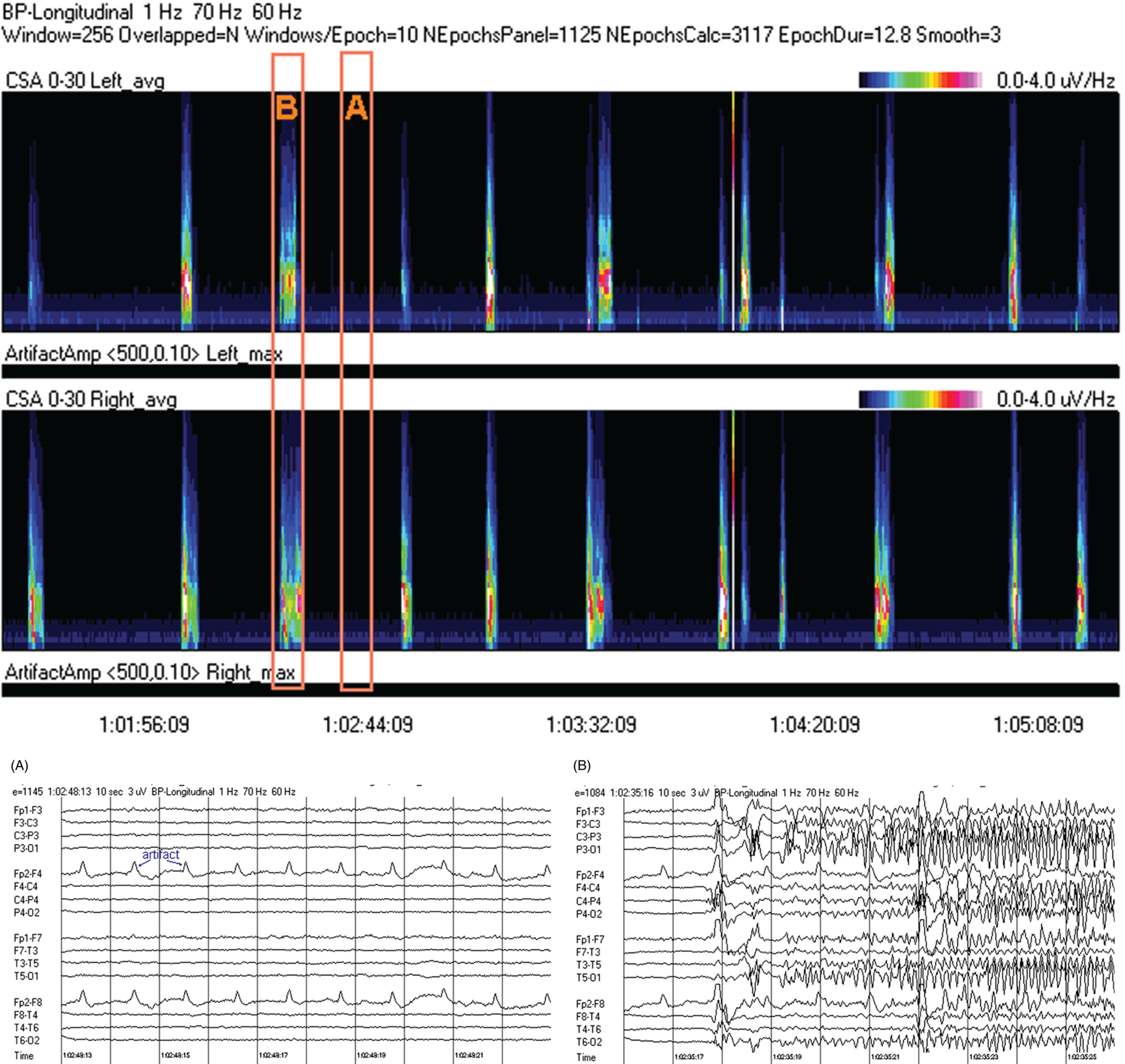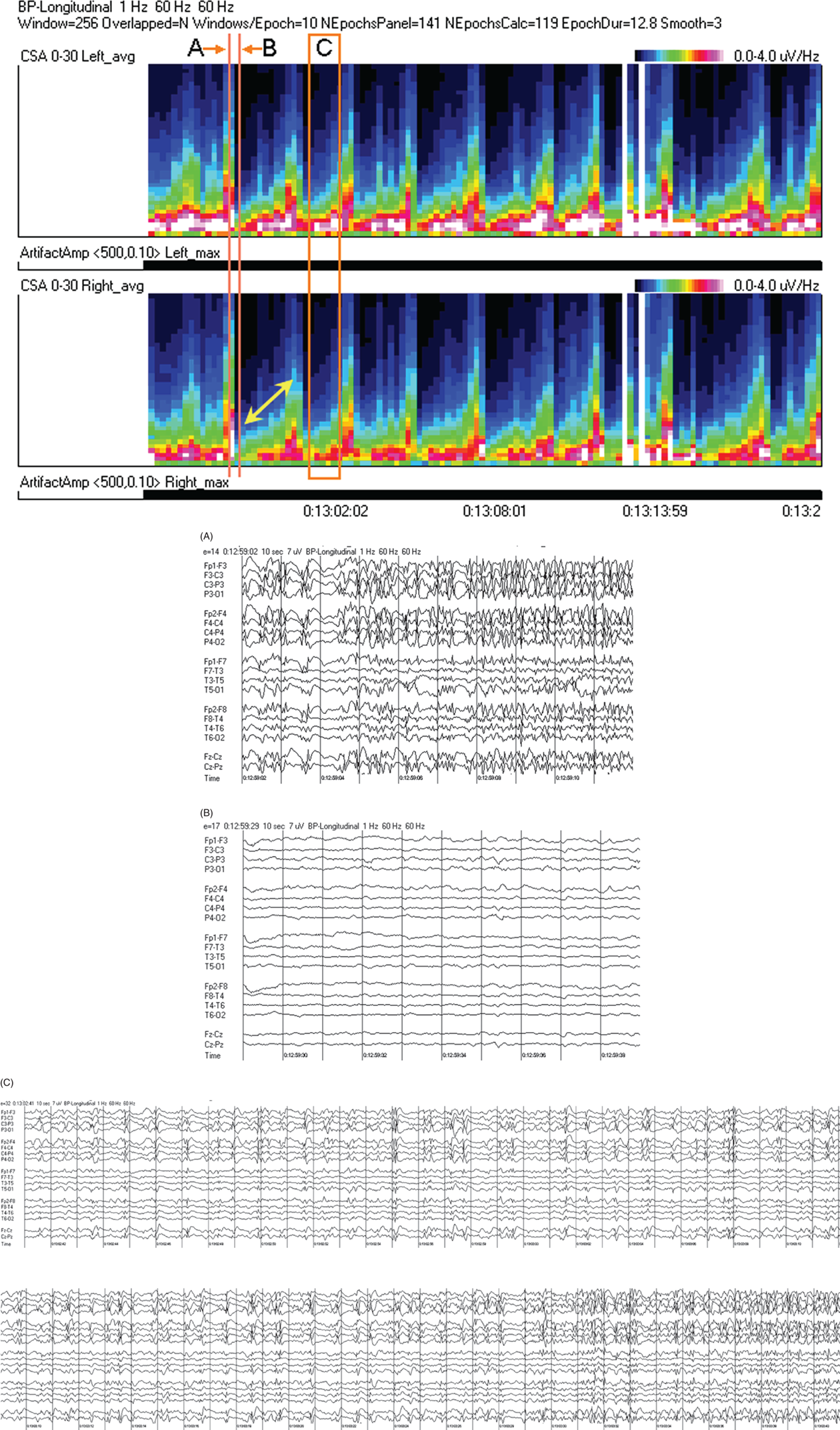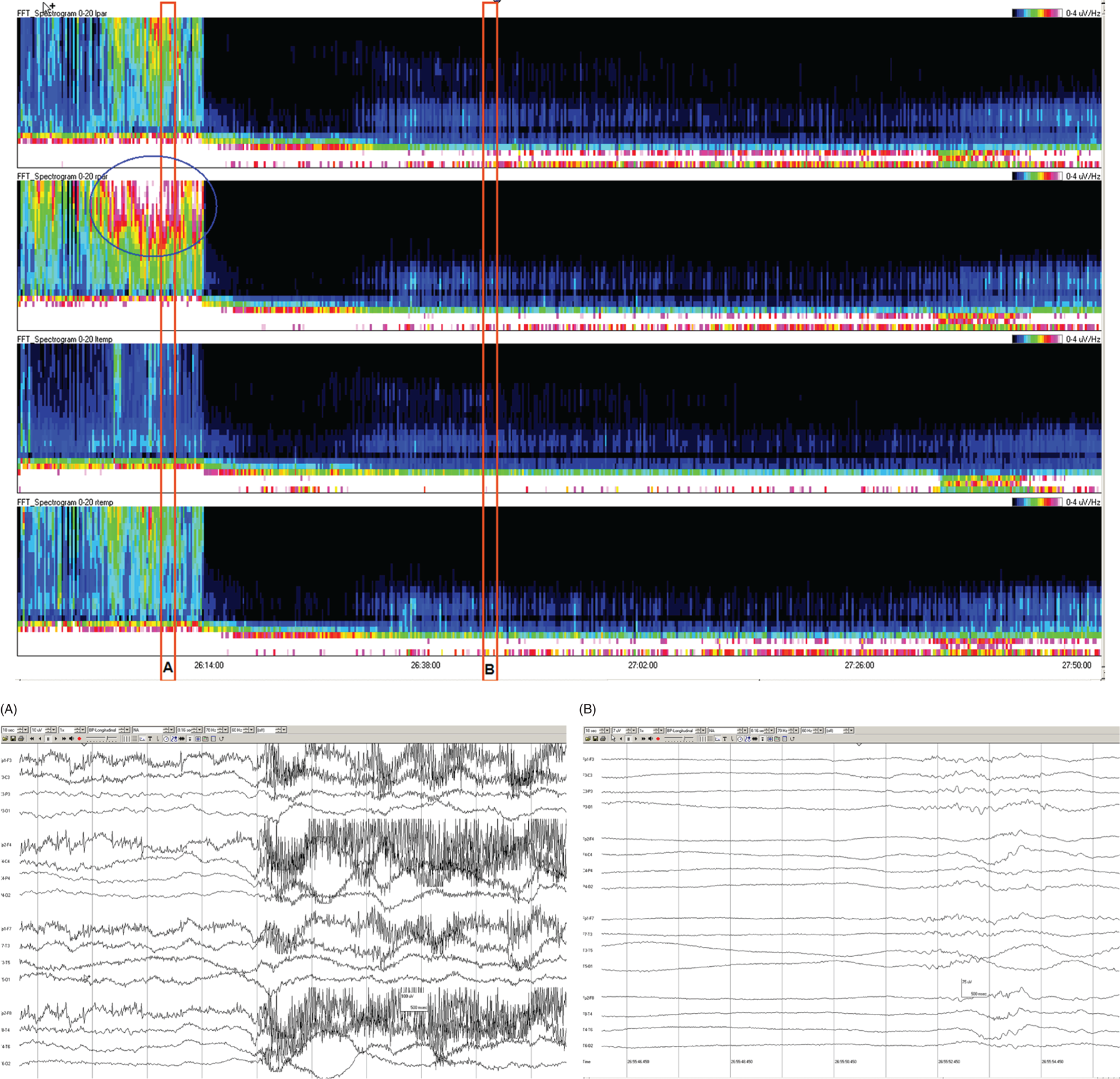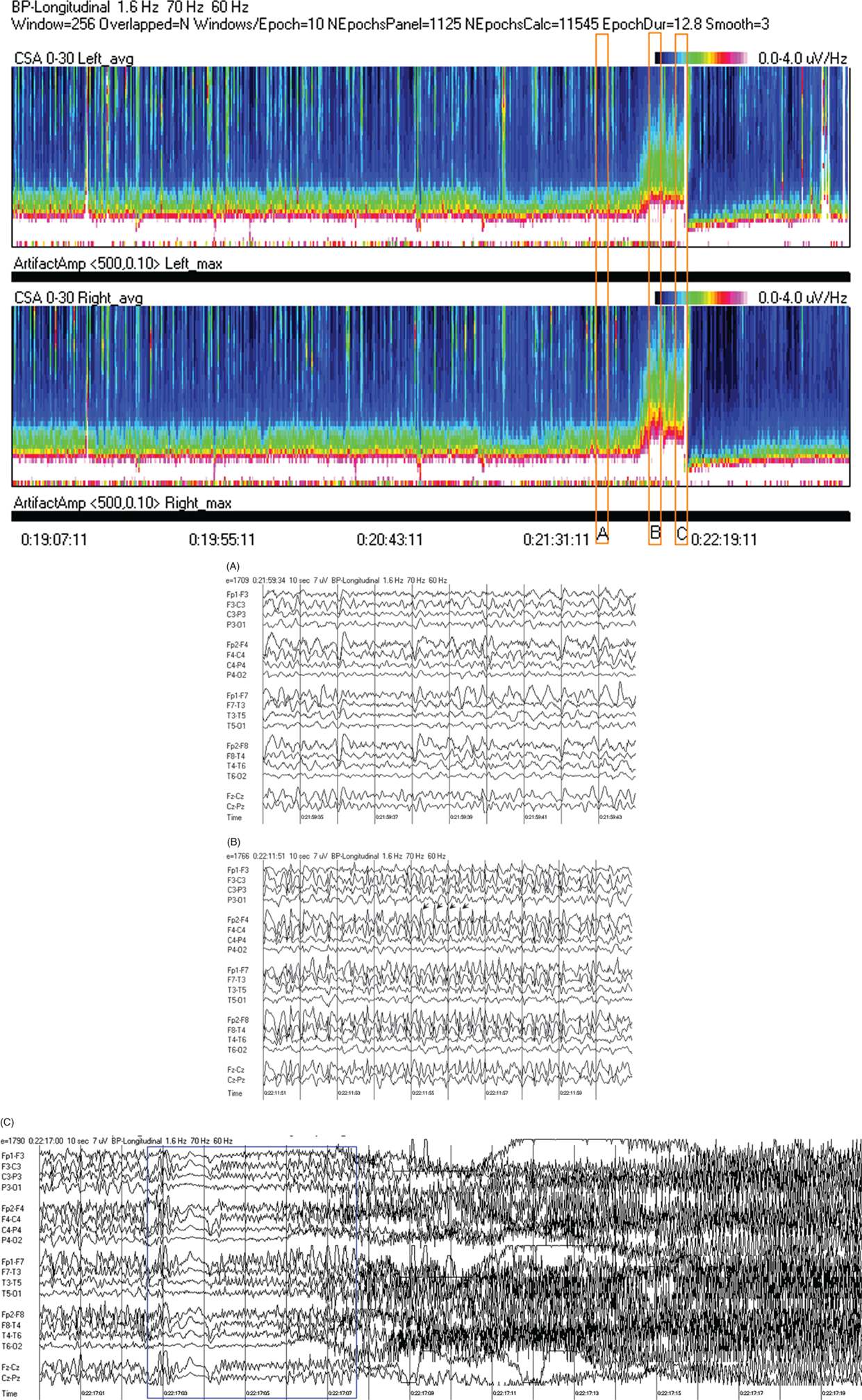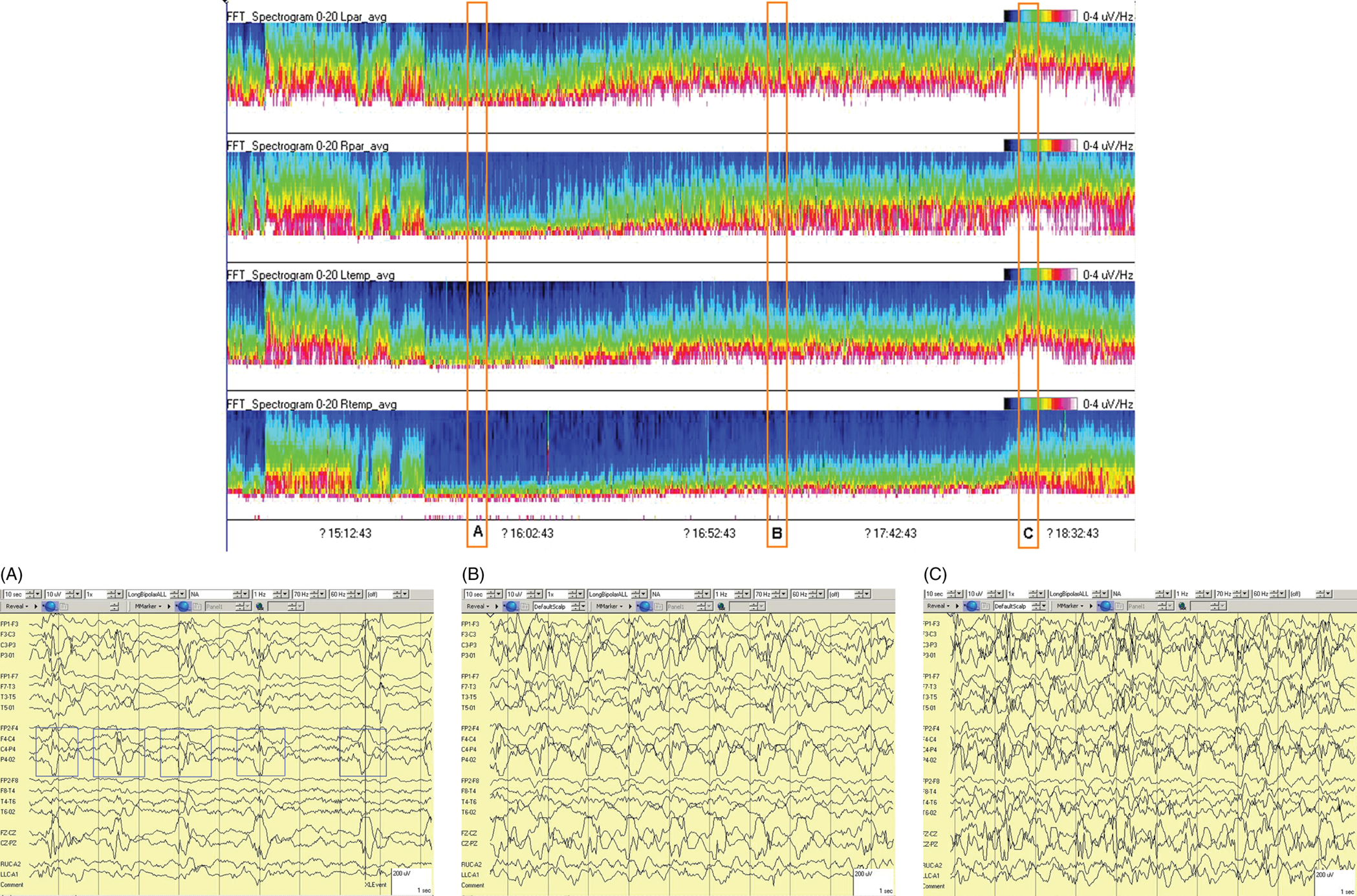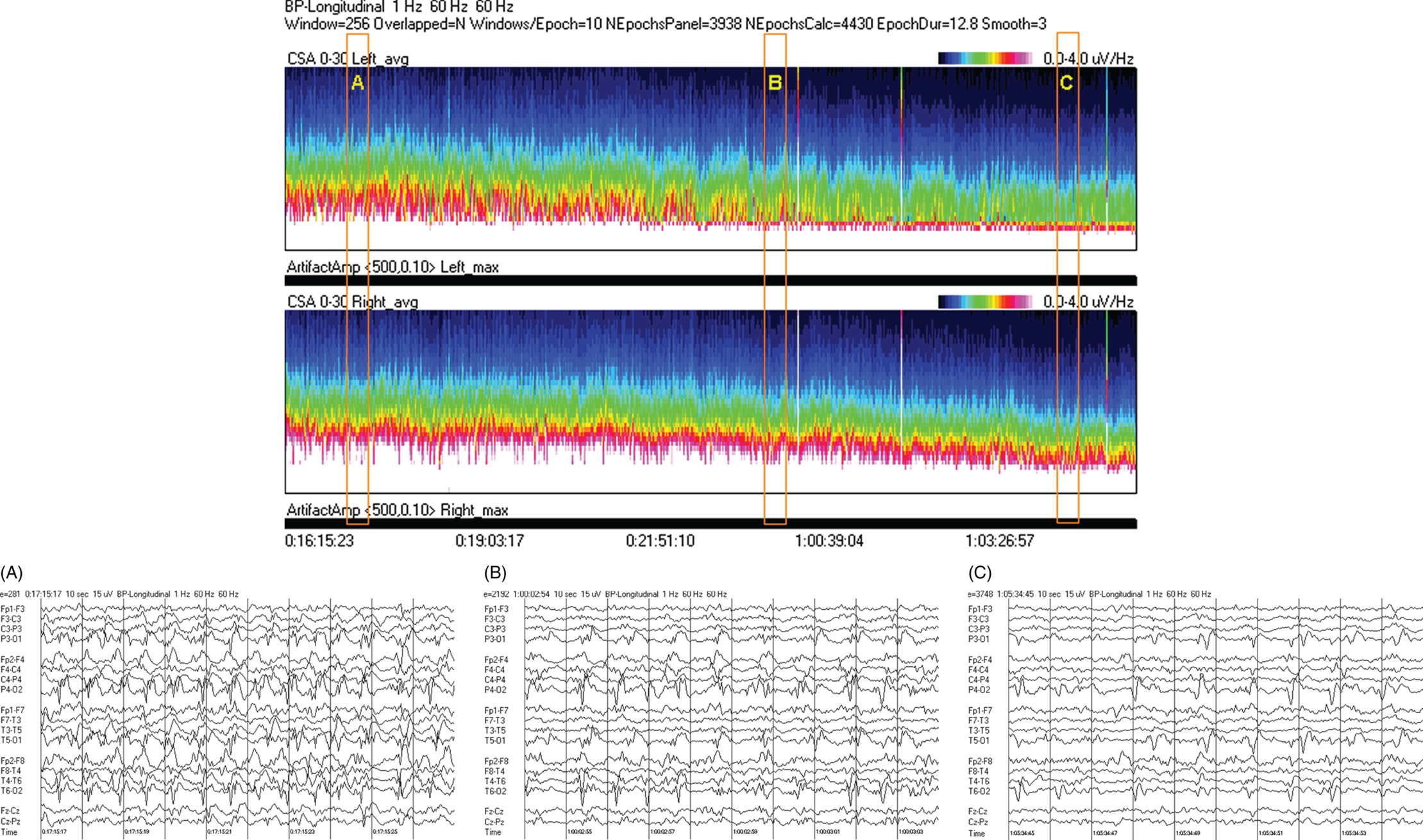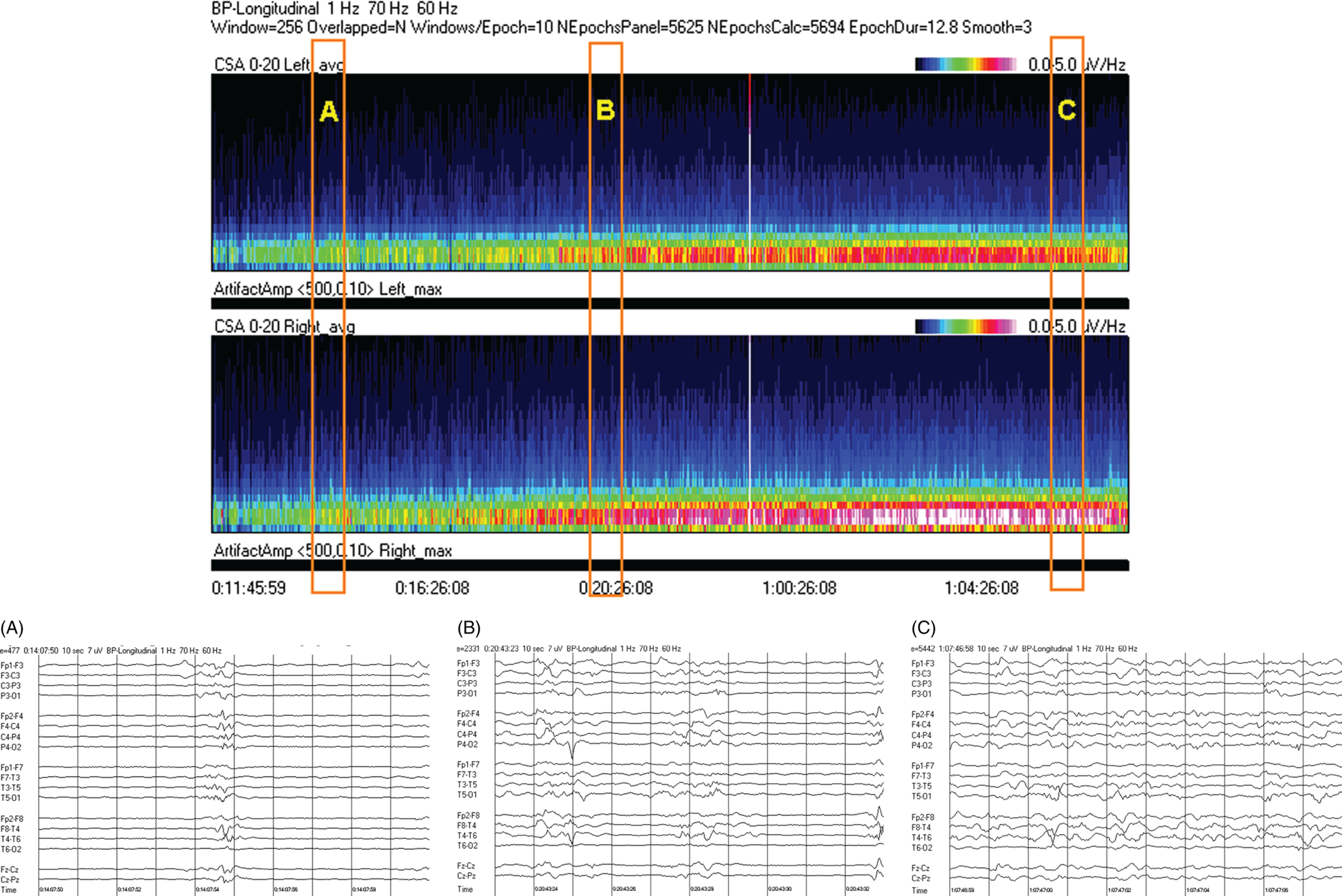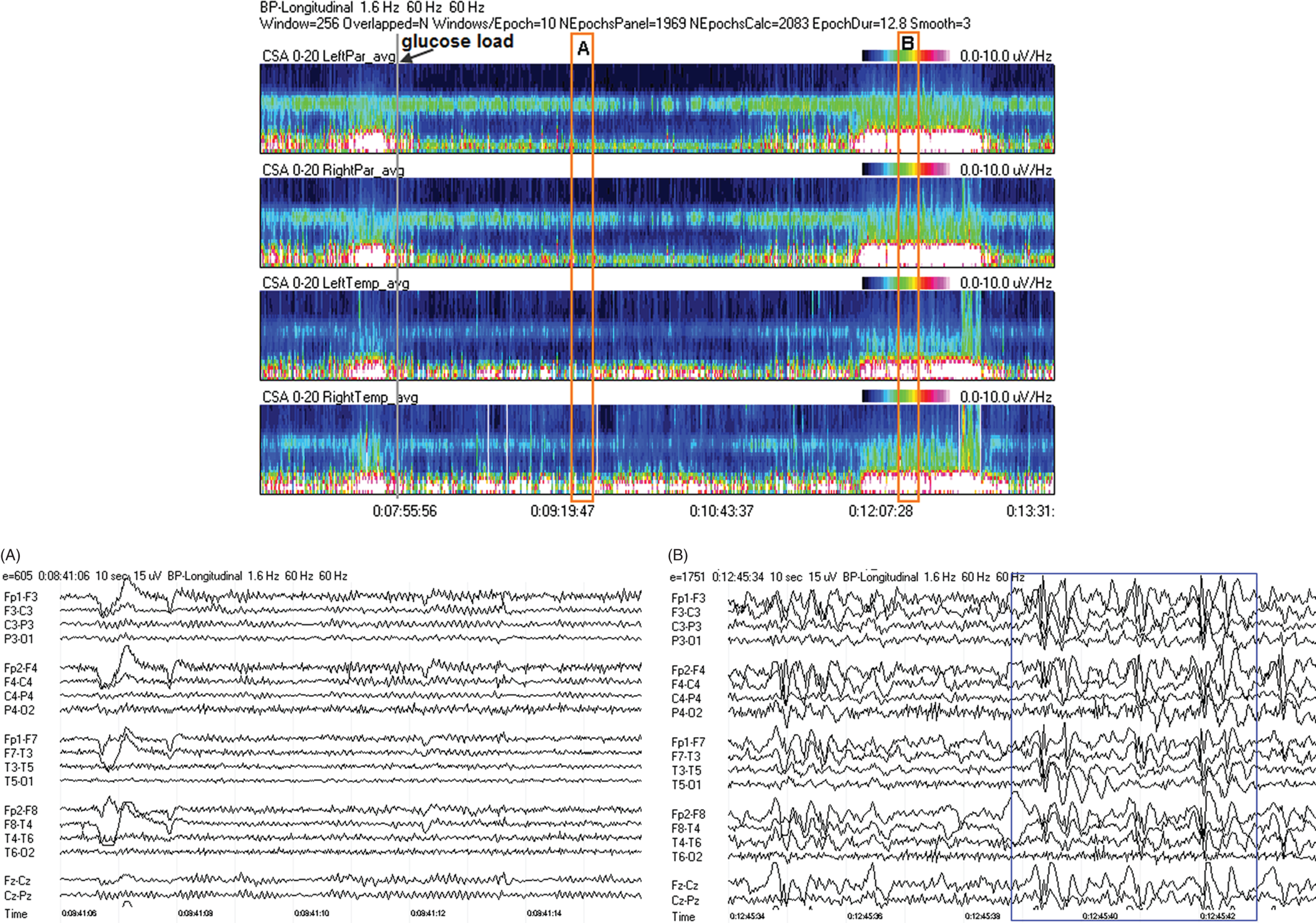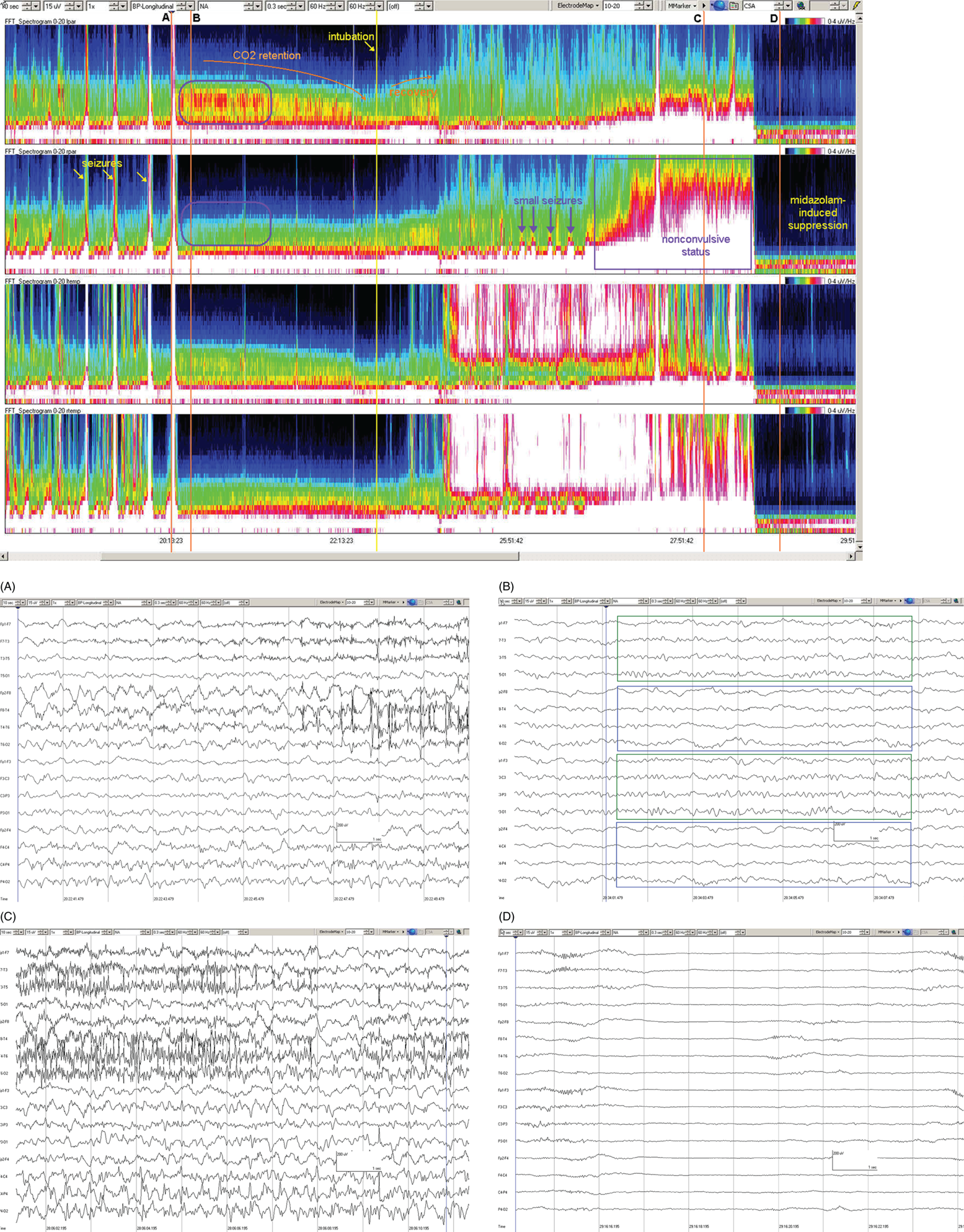 Full access? Get Clinical Tree