Fig. 9.1
Neurogenesis in the SVZ
. (
a
) Schematic brain sagittal section showing the two main neurogenic niches in the postnatal brain, the dentate gyrus of the hippocampus and the SVZ (
orange
). SVZ-derived migrating progenitors (
light blue
) move tangentially along the RMS towards the OB, where they migrate radially and differentiate into inhibitory interneurons. (
b
) Anatomy of the SVZ. Ependymal ciliated cells (
purple
) line the wall of the lateral ventricle, and are in contact with quiescent stem cells ("B" cells,
yellow
), which in turn give rise to transit amplifying cells ("C" cells,
orange
). The latter produce migratory neuroblasts ("A" cells,
light blue
). The SVZ niche is rich in blood vessels (
red
). (
c
) (
Left panel
) Migratory neuroblasts slide along each other in chains surrounded by an astrocytic network. (
Right panel
) Typical RMS migratory neuroblasts extend a long protrusion oriented towards the OB, as shown by GFP-labeling via
in vivo
postnatal electroporation. The OB is located to the right of the image. (
d
) (
Left panel
) Following radial migration in the OB, neuroblasts (
light blue
) differentiate into either granular cells (
purple
) making dendrodendritic synapses with mitral cells in the GCL (
green
) or into periglomerular cells (
dark pink
), making synapses with mitral cells and olfactory neurons in the GL. (
Right panel
) Fluorescent SVZ-derived inhibitory interneurons are visible in the OB 14 days after
in vivo
electroporation of a GFP-encoding plasmid in the SVZ.
DG
dentate gyrus,
OB
olfactory bulb,
RMS
rostral migratory stream,
SVZ
subventricular zone,
GCL
granule cell layer,
MCL
mitral cell layer,
GL
glomerular layer
Many studies have conclusively proven the existence of neurogenesis in the human brain (Goritz and Frisen
2012
; Spalding et al.
2013
). Whereas the RMS is highly prominent in rodents, its presence in the adult human brain is still a subject of controversy (Curtis et al.
2007b
; Sanai et al.
2007
). A recent report monitoring levels of nuclear bomb test-derived
14
C in genomic DNA has shown very limited olfactory bulb neurogenesis in the adult human brain (Bergmann et al.
2012
). However, a prominent RMS is visible in the human infant brain up to 18–20 months after birth (Sanai et al.
2011
). The extensive migration of neural progenitors observed in this early postnatal stage could be linked to the need to maintain a high level of functional synaptic plasticity at this crucial stage of human development. Indeed, it has been suggested that this migration may also be the target of a number of neurological conditions developing in early infancy (Sanai et al.
2011
).
Interestingly, several rodent and human studies have shown that SVZ-derived neuroblasts have the ability to be re-routed to sites affected by injury, trauma, stroke or neurodegeneration (Curtis et al.
2007a
; Sundholm-Peters et al.
2005
; Arvidsson et al.
2002
; Ohab et al.
2006
). Studying neuroblast motility may therefore be therapeutically relevant not only for devising endogenous stem cell-based repair strategies but also to promote recruitment of transplanted progenitors in neuroregenerative approaches. Finally, many factors and intracellular regulators of neuroblast migration may also influence pathological cell migration, as in the case of highly metastatic brain tumour cells. This chapter provides an overview of the main extracellular factors regulating RMS neuroblast migration in the postnatal brain.
2

The Migration of SVZ-Derived Neuroblasts
3

Factors Controlling RMS Neuroblast Migration

The directed migration of RMS neuroblasts relies on the complex combination of a variety of extracellular factors with chemorepellent, chemoattractant, and motogenic activities. In the last two decades in vitro migration assays using RMS explants and a variety of transgenic mouse models have been instrumental to identify several regulators of neuroblast migration, including cell adhesion/ECM and axon guidance molecules, growth factors, and neurotransmitters (Figs.

9.4

,

9.5

,

9.6

and

9.8

). The following section describes the roles of key extracellular signals controlling the different phases of neuroblast migration, including detachment from the SVZ, tangential migration along the RMS, and the final switch to radial migration in the OB.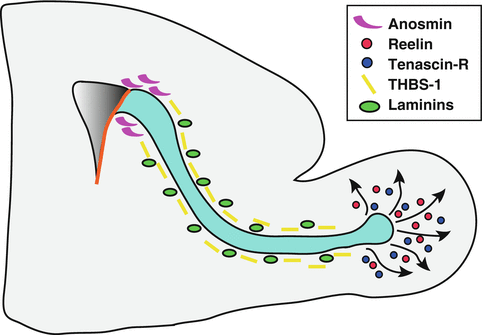 Fig. 9.4
Cell adhesion and ECM molecules involved in neuroblast migration
. PSA-NCAM and various integrin subunits modulate neuroblast motility along the RMS. Integrins can interact with a number of laminins present along the RMS. The ECM glycoprotein anosmin secreted by neuroblasts may cooperate with FGFR1 signalling to promote detachment of neuroblasts from the SVZ. Secreted thrombospondin-1 (THBS-1) and Reelin act on the same receptors (ApoER2 and VLDLR) to modulate tangential and radial migration, respectively. Expression of the ECM component Tenascin-R is activity-dependent and controls chain dispersion in the OB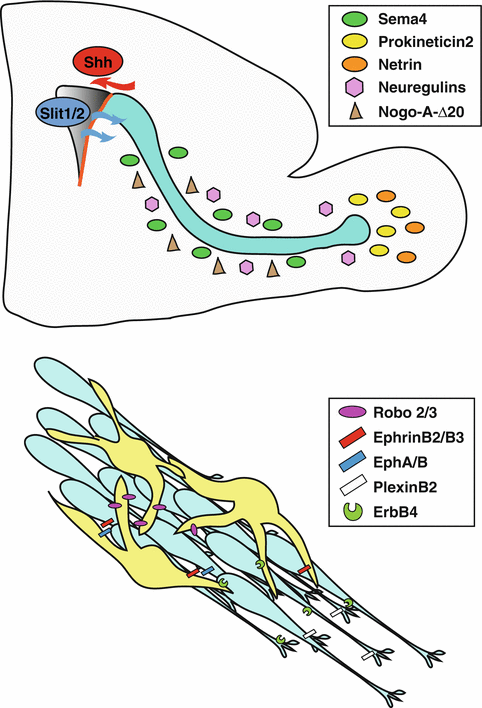 Fig. 9.5
Axon guidance molecules regulating neuroblast migration
. (
Top
) Slits1/2 derived from the choroid plexus function as chemorepellents for RMS neuroblasts, while Sema4 acts on PlexinB2 receptors to restrict tangentially migrating neuroblasts to the RMS, forcing cells to move along the caudo-rostral axis. The Nogo-A-Δ20 domain may contribute to ensure proper adhesion/detachment cycles in neuroblasts along the RMS. Prokineticin 2 expressed in the OB acts as a chemoattractant for neuroblasts along the RMS and as a dissociation signal at the OB entry. Netrin secreted by mitral cells in the OB may promote the directed migration of neuroblasts expressing the DCC receptor. (
Bottom
) Axon guidance molecules also function in neuroblast-astrocyte cross-talk along the RMS. Neuroblasts secrete Slit-1 to remodel the surrounding glial tubes via Robo2/3 receptors present on astrocytes. Eph receptors in the RMS may act upon binding of EphrinB2/B3 ligands present on astrocytes to regulate chain maintenance. NRG/ErbB4 signalling regulates neuroblast-astrocyte interaction, chain organization and both tangential and radial migration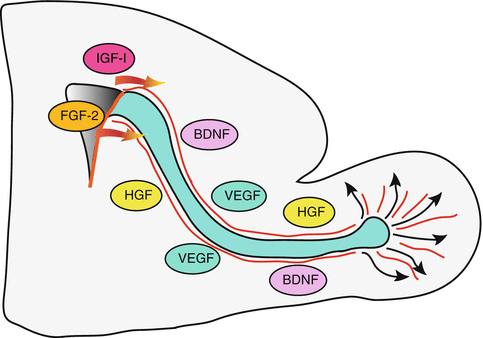 Fig. 9.6
Growth factors involved in neuroblast migration
. IGF-I and FGF-2 promote the exit of neuroblasts from the SVZ while VEGF may favour tangential migration via VEGFR2. VEGF secreted by astrocytes may also indirectly regulate the motility of neuroblasts by remodeling blood vessels functioning as scaffold for migration. BDNF secreted by blood vessels promotes neuroblast motility via p75NTR, while HGF acts as a motogenic factor by binding the Met receptor present on neuroblasts. See text for details
3.1

Adhesion Molecules/ECM Molecules
3.2

Axon Guidance Molecules
3.3

Other Factors

Sonic Hedgehog (Shh):

The morphogen Shh has recently been implicated in the regulation of neuroblast migration.

In vivo

perturbation of Shh signaling significantly alters the amount of BrdU

+

nuclei found in the SVZ and OB, without altering the total amount of BrdU

+

cells. Specifically, overexpression of Shh led to an increase in BrdU

+

cells in the SVZ at the expense of the OB, while overexpression of the Shh inhibitor Hip led to opposite effects, suggesting an involvement of Shh signaling in neuroblast proliferation and migration (Angot et al.

2008

). Indeed, RMS migratory neuroblasts express both the 12-pass transmembrane protein Patched (Ptc) and the G protein-coupled receptor Smoothened (Smo), which are the main mediators of Shh signaling.

In vitro

migration assays using RMS explants point to a chemoattractive role for Shh, confirmed by the fact that

in vivo

grafting of Shh-expressing cells attracts migrating neuroblasts away from the RMS (Angot et al.

2008

). Since Shh is highly expressed in the SVZ and in the CSF, this morphogen may act as a molecular cue to control the exit of neuroblasts out of the SVZ, retaining them within the niche. It remains to be seen how Shh exerts this effect, whether classically through attenuation of Gli transcriptional repressors or through modulation of integrin/N-cadherin adhesion, as shown in neural crest cells and in the neuroepithelium (Jarov et al.

2003

). Thus, Shh signaling is likely to contribute to the complex balance between attractive, repulsive and motogenic factors regulating the detachment of neuroblasts from the SVZ and the initiation of their migration in the RMS.

Nogo:

A recent study has highlighted the contribution of Nogo signaling to the regulation of neuroblast migration. Nogo-A and its receptor NgR1 are well-known regulators of neurite growth and synaptic plasticity in the CNS (Pernet and Schwab

2012

), but they have also been implicated in controlling neural stem cell proliferation (Li et al.

2011

). Interestingly, while Nogo-A/NgR1 signalling reduces neural stem cell proliferation

in vivo

, the Nogo-A-Δ20 domain supports tangential migration in the RMS independent of NgR1, which is absent from neuroblasts. This effect appears to rely on the ability to affect cytoskeletal dynamics by stimulating a Rho-ROCK signaling cascade, which is likely to ultimately contribute to the balance of adhesion/detachment cycles during migration (Rolando et al.

2012

). Consistent with this,

in vivo

infusion of a Nogo-A-Δ20 domain blocking antibody causes a marked accumulation of DCX+ neuroblasts in the SVZ, supporting a role for Nogo-A in promoting neuroblast mobilization via its Δ20 domain, facilitating their sliding onto each other. Interestingly, this Nogo-A effect is lost at the rostral end of the RMS, when cells switch from tangential migration to radial migration along vascular scaffolds, suggesting that Nogo-A-Δ20 may act by modulating homotypic interactions between neuroblasts along the RMS. The receptor(s) mediating this Nogo-A-Δ20 dependent effect are still unknown.

Prokineticin 2:

Prokineticin (1 and 2) are secreted bioactive molecules acting via two closely related G-protein-coupled receptors (Prokr1 and Prokr2), and are involved in controlling gut motility, reproductive function and circadian output from the suprachiasmatic nuclei (Prosser et al.

2007

). Both prokineticin receptor transcripts are highly expressed in the SVZ and RMS, and prokineticin 2 plays an important chemoattractant role for RMS neuroblasts (Ng et al.

2005

). Prokr2 is highly expressed by RMS neuroblasts, but is also present on transit amplifying cells, suggesting it could play an additional role in regulating the transition from the transit amplifying "C" cell state to the migratory neuroblast "A" cell state (Puverel et al.

2009

).

Prokr2

Brdm1

mice (with a null prokineticin receptor 2) show severe defects in neuroblast migration, with substantial accumulation of cells in the RMS and a drastic decrease in the size of the OB, which also displays disrupted organization and failure in differentiation (Prosser et al.

2007

). Both

Prok2

and

Prokr2

genes play an essential role also during the terminal steps of the migration of neuroblast chains in the RMS, since both

Prokr2

−/−

and

Prok2

−/−

mice display defective dissociation of chains at the exit of the RMS. These data, together with the specific expression of

Prok2

in the OB (Ng et al.

2005

) strongly support a role for prokineticin2 as a chemoattractant for SVZ-derived neuroblasts along the RMS and as a dissociation signal at the entry of the OB. Importantly,

Prokr1

ko mice retain a normal OB, supporting a specific role for

Prokr2

in neuroblast migration. Interestingly, the effects on the OB observed in

Prokr2

null mice are more severe compared to those caused by the lack of its ligand Prokineticin2, suggesting that the loss of

Prok2

is at least partially compensated

in vivo

by other mechanisms.