Fig. 3.1
Scheme of the JNK cascade and the upstream components that regulate cell migration during cortical development
. (
a
) JNKs are the effector kinases that reside at the end of a classical MAPK signalling cascade. Studies in transgenic mice have indicated a role for DLK and MEKK4 in the regulation of neuronal migration, and for MEKK1 in the regulation of epithelial cell migration during eye development. MEKK4 signals via p38 to positively regulate neuronal migration (
green arrow
), in contrast JNK1 slows (
red arrow
) the rate of multipolar and bipolar cell migration. The MAPK splice variants involved in migration regulation are not known, though multiple forms are expressed in brain. (
b
) Depicted in the scheme are those receptors that activate JNK in neuronal systems in various contexts and may contribute to JNK regulation during neuronal migration. ApoER2 is the Reelin receptor that couples to JNK (Trommsdorff et al.
1999
), BMP7 binding to BMPRII and activates JNK (Podkowa et al.
2010
), endothelin-1 activates JNK via the ETB receptor in developing brain (Mizuno et al.
2005
). NMDA receptor activation also induces JNK activity in neurons (Mukherjee et al.
1999
)
2

JNKs Regulate Cell Death in Developing and Ageing Brain

In non-neuronal cells JNK activity is low and triggered in response to stressful stimuli. However, in primary neuron cultures and in brain tissue JNK activity is anomalously high even in the absence of stress (Coffey et al.

2000

; Coffey and Courtney

1997

; Hu et al.

1997

). This elevated activity in brain derives mainly from JNK1 isoforms as 50 % of resting JNK activity is lost in the cortex of

Jnk1

−/−

mice, while JNK2 and JNK3 isoforms contribute less (Tararuk et al.

2006

). Precise measurements of stress responsive JNK in neuronal systems are for this reason compounded by contaminating constitutive kinase activity. However, JNK2/3 isoforms have been isolated using isoform-specific antibodies and shown to be activated by stress in the

trophic factor deprivation

model of developmental death in neurons (Coffey et al.

2002

). JNK3 has been implicated in excitotoxic damage in brain and

Jnk3

−/−

adult mice show reduced sensitivity to kainate-induced seizures (Yang et al.

1997b

; Kuan et al.

2003

; Pirianov et al.

2007

) while

Jnk3

−/−

neonates are less susceptible to hypoxia-ischemia induced damage (Pirianov et al.

2007

). Furthermore, cortical and hippocampal neurons derived from

Jnk3

−/−

mice are protected from beta-amyloid-induced death (Morishima et al.

2001

). In the peripheral nervous system,

Jnk3

−/−

neurons are protected from axotomy-induced death and JNK pathway inhibitors protect in models of Parkinson's disease (Keramaris et al.

2005

; Maroney et al.

1999

; Brecht et al.

2005

). Studies evaluating neuronal death during development, have shown that all JNKs (1, 2 and 3) contribute to toxicity, and significant protection requires silencing of all three genes (Björkblom et al.

2008

). Moreover, the JNK substrates mediating neuronal death are not yet formally identified. While increased phosphorylation of JNK substrates c-Jun and ATF2 accompanies JNK activation in a range of neuronal death models, efficient knockdown of

c-Jun

or

Atf2

in neurons does not protect from death (Björkblom et al.

2008

), and c-Jun phosphorylation was unchanged in

Jnk1/2

−/−

double mutants suggesting that c-Jun phosphorylation by JNK is not essential for brain morphogenesis and the accompanying apoptosis changes (Behrens et al.

1999

; Sabapathy et al.

1999

). Although it is not easy to formulate a simple model to explain how JNKs contribute to both pathological and physiological functions, for example based on isoform dependence alone, the signaling complexity does not take away from the wealth of evidence that indicates that these kinases are major effectors of cell death in the nervous system. Indeed, inhibition of JNK activity is elevated in post-mortem brain from patients with Parkinson's Disease and Dementia with Lewy bodies and in Alzheimer's patients (Ferrer et al.

2001

,

2002

), and inhibition of JNK provides neuroprotection in an extensive range of neuronal death models (Waetzig et al.

2006

).
3

Developmental Expression in the Nervous System

Jnk1

and

Jnk2

are expressed ubiquitously throughout the body including brain, while

Jnk3

expression is almost exclusively expressed in brain with low levels found in heart and testis (Kuan et al.

1999

).

Jnk1

,

2

and

3

mRNAs are high in embryonic brain (Kuan et al.

1999

) and in adult brain JNK1 protein expression is elevated in the cortex, hippocampus and striatum while JNK3 expression is high in the hippocampus, lower levels are detected in the cortex, striatum and cerebellum (Brecht et al.

2005

). Directly upstream from JNK,

Mkk4

and

Mkk7

mRNAs are ubiquitously expressed in adult mouse brain, whereas in the developing nervous system,

Mkk4

appears before E10 after which it is also expressed in liver and thymus (Wang et al.

2007c

). As development proceeds MKK4 protein levels increase in brain, reaching a stable level in adulthood, while MKK4 simultaneously decreases in the liver and thymus (Lee et al.

1999

). In contrast, MKK7 shows wide tissue expression both in during development and in adult. However at later stages of embryogenesis MKK7 levels in brain, skin and hair follicle increase (Yao et al.

1997

).
4

Lessons Learned from Genetic Disruption of JNKs and Upstream Kinases in Mice
5

JNK and Cell Migration – A Closer Look

Several lines of evidence have shown that JNK is required for migration in a variety of cell types including epithelial cells, fibroblasts, endothelial cells, various cancer cell lines and in aortic vascular smooth muscle cells (Huang et al.

2003

; Malchinkhuu et al.

2005

; Björkblom et al.

2012

; Kavurma and Khachigian

2003

). This large and concurrent data set derives largely from wound healing assays and the use of

Jnk

−/−

cells, or pharmacological inhibition (Javelaud et al.

2003

; Huang et al.

2003

). The situation in neurons has been less clear however. Studies of mouse genetics have revealed that components of the JNK cascade namely JNK1, MEKK4 and DLK influence neuronal migration in the cortex, albeit in different directions (inhibitory versus facilitatory). In freshly isolated cerebellar granule neurons and in cortical neurons, JNK1 activity retards migration as demonstrated using

Jnk

−/−

cells or upon expression of the JNK inhibitor JBD (Westerlund et al.

2011

; Björkblom et al.

2012

). These authors also find that in non-neuronal cells JNK facilitates migration, thus inhibitors of JNK retard motility, in agreement with a large literature. Interestingly, ectopic expression of a neuron-enriched JNK substrate (MARCKSL1) in fibroblasts reverses this migration phenotype to one that mimics JNK action in neuronal cells, where JNK retards migration (Björkblom et al.

2012

). Therefore the conflicting reports as to whether JNK activates or inhibits migration in neuronal and non-neuronal cells may depend on JNK target expression. Perhaps the functional multiplicity displayed by JNK in controlling cell migration is not altogether surprising given the signaling diversity at the MAP3K and MAP4K level of the JNK cascade, the components of which least well defined in neurons and brain tissue. The striking differences in phenotypes, while comparing even MAP2K (

Mkk4

and

Mkk7

) single knockouts with MAPK (

Jnk

) knockout mice, indicates that cooperative activation of JNKs by MKK4 and MKK7 may be critical for JNK's management of migration in neuronal cells.
5.1

JNK's Association with Controllers and Executors of Neuronal Migration

DCX:

It is generally accepted that MAPK cascades function linearly, the MAPK is the effector kinase and the upstream kinases do not signal orthogonally. The substrate of the effector kinase therefore reveals information on mechanism. Among the well-characterised substrates for JNKs are several microtubule-modifying proteins, including the classical neuronal migration protein doublecortin, also known as DCX (Fig.

3.2

). DCX is a developmentally regulated, brain-specific microtubule-associated protein that was first identified in patients with missense mutations in DCX and lissencephaly syndrome (characterized by smooth brain), subventricular heteropia and cortical dysgenesis (des Portes et al.

1998

; Francis et al.

1999

). DCX protein is phosphorylated by JNK on T331, S334 and T321 (sites from human DCX isoform 2) (Gdalyahu et al.

2004

) and phosphorylation of these sites is important for neurite length regulation and neuronal migration (Gdalyahu et al.

2004

; Bai et al.

2003

). DCX binds to microtubules and enhances polymer formation, it may do this by regulating microtubule nucleation (Fourniol et al.

2010

). More recently, DCX has been shown to regulate F-actin through its C-terminal region and this is thought to involve its interaction with spinophillin (the F-actin-binding, regulatory subunit of protein phosphatase 1). Crosslinking of actin and microtubules by DCX is proposed to be important in growth cone guidance as

DCX

−/y

;

Dclk1

−/−

mutant neurons are unresponsive to netrin guidance cues (Fu et al.

2013

). Furthermore, DCX is required for multipolar transit and bipolar cell locomotion (LoTurco and Bai

2006

). DCX phosphorylation by JNK2 may dissociate it from microtubules (Jin et al.

2010

) thereby increasing microtubule plasticity and influencing migration. Whether JNK1 or JNK3 isoforms phosphorylate DCX in developing brain and alter migration rate remains to be seen.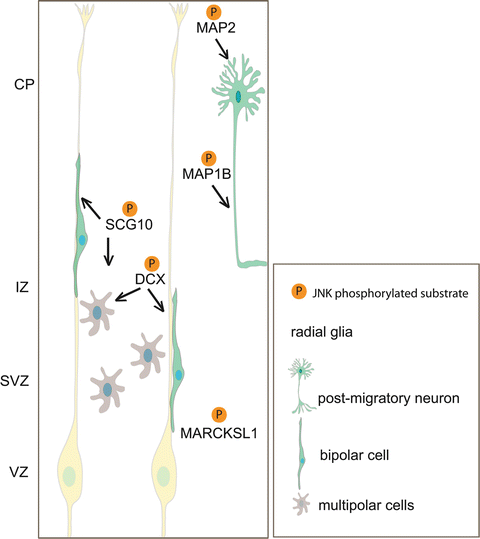 Fig. 3.2
Model depicting neuronal JNK substrates and their respective roles in regulating neuronal migration
. JNK phosphorylates SCG10 and DCX, microtubule regulatory proteins that have a major influence on multipolar transition and bipolar cell migration. When neurons have reached their final position, JNK phosphorylation of MAP1b and MAP2 regulates axonal extension and dendritic arbor development. MARCKSL1 is also phosphorylated by JNK and regulates neuronal migration
in vitro
(Björkblom et al.
2012
). Whether MARCKSL1 regulates radial migration remains to be seen.
CP
cortical plate,
IZ
intermediate zone,
SVZ
subventricular zone,
VZ
ventricular zone
Reelin:
Reelin is an extracellular glycoprotein that negatively regulates migration in the developing cortex, hippocampus and cerebellum giving rise to the
Reeler
mouse phenotype (Tissir and Goffinet
2003
). An important link between Reelin and JNK signalling has been established. Mutations in Reelin or in two of its multiple receptors APOER2 and VLDL (Trommsdorff et al.
1999
), or in the DAB1 protein that serves as intracellular adaptor protein leads to a lissencephaly in humans (Trommsdorff et al.
1999
; Hong et al.
2000
). A proline rich region in the cytoplasmic tail of APOER2 binds to two of the JNK scaffold proteins, JIP1 and JIP2. The function of the JIP scaffolds is to co-assemble JNK and distinct MAP2Ks and MAP3Ks thereby facilitating the activation of JNK by these upstream regulators (Manning and Davis
2003
; Whitmarsh
2006
). Importantly binding of JIP to APOER2 does not disturb the assembly of a complete JNK signalling module consisting of its upstream activators MLK3 and MKK7 (Stockinger et al.
2000
). Therefore APOER2 is capable of organizing a scaffold signalling complex that activates JNK, and it could be expected that Reelin binding to its receptor will regulate JNK activation, though this still requires experimental validation. Reelin also controls neuroblast migration to the olfactory bulb via the receptor APOER2 (Hellwig et al.
2012
). Whether or not JNK regulates cell motility in the rostral migratory stream is not known.
Notably,
Reeler
mice mimic
Jnk1
−/−
mice in several significant ways. Firstly, multipolar and bipolar cells in
Reeler
mice move faster than in wild-type mice and transit more quickly through the multipolar phase (Britto et al.
2011
). This mimics the accelerated migration of multipolar and bipolar cells in
Jnk1
−/−
mice with reduced duration of the multipolar phase (Westerlund et al.
2011
). Another feature of migration in
Reeler
mice was the disturbed trajectories of migrating neurons that exhibited increased meandering (Britto et al.
2011
). Whether neuronal trajectories are altered during cortical development in
Jnk1
−/−
mice has not been reported. Finally,
Reeler
mice are characterized by abnormal reorganisation of preplate (PP) neurons, exemplified by delayed and incomplete PP splitting (Sheppard and Pearlman
1997
). Similarly,
Jnk1
−/−
mice display more prominent chondroitin sulphate proteoglycan staining in the superplate that may reflect differences in PP splitting (Westerlund et al.
2011
). Together these findings point to JNK as a likely intracellular purveyor of Reelin's
stop signal
during formation of the cortex.
5.2

JNK1 Regulation of Microtubules

The microtubule cytoskeleton and its posttranslational modifications are critical determinants of neuronal migration and there are several examples of mutant mice, where disruption of genes that directly or indirectly affect microtubule homeostasis impose migration defects. For example, missense mutations in DCX (des Portes et al.

1998

; Francis et al.

1999

), TUBA1A (Kumar et al.

2010

), TUBG1 (Poirier et al.

2013

) and Elongator (Creppe et al.

2009

) result in significantly altered migration patterns in the developing cortex. In this context, JNK1 has emerged as a prominent regulator of microtubule integrity in brain. Microtubule length is decreased in brains from adult mice lacking

Jnk1

(Chang et al.

2003

), microtubule dynamics is altered in cortical neurons upon expression of the JBD inhibitor of JNK (Tararuk et al.

2006

), and there is a significant increase in tyrosinated tubulin in

Jnk1

−/−

neonates, suggesting increased microtubule plasticity (Westerlund et al.

2011

). Consistent with this function in maintaining brain microtubule stability, axon formation is also disturbed in

Jnk1

−/−

mice, for example, the anterior commissure develops normally but is disrupted by postnatal day 12 and is absent in adult brain (Table

3.1

) (Chang et al.

2003

).