Figure 41-1 Intraoperative presentation of left poplitea and calf (asterisk). A large granuloma mass (arrowheads) expands the popliteal subfascial area and leads to compression of the peroneal nerve (arrow).
After removal of the tumor, pain ceased immediately, whereas the footdrop remained unaffected. Muscle biopsy of the left anterior tibial muscle showed extensive infiltration of muscle with non-necrotizing granulomas with epithelioid and Langerhans-type giant cells, consistent with the diagnosis of sarcoidosis (Fig. 41-2).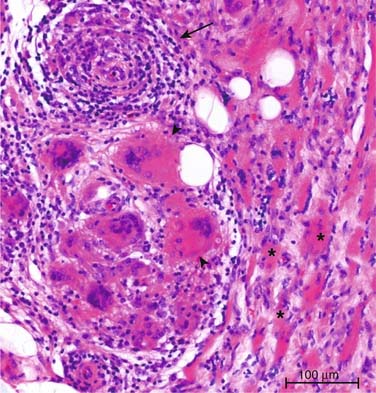 Figure 41-2 Muscle biopsy of the left popliteal region (muscle fibers are marked with asterisk), showing multinucleated giant cells (arrowheads) and perivascular lymphocytic infiltrates (arrow).
CONCLUSION
Diagnosis of sarcoidosis and hence of neurosarcoidosis still relies on biopsy of affected tissue, because there are no definite blood or radiologic diagnostic tests for this disorder. If a patient has a known histologically proven sarcoidosis, chances are high that the current neurologic problem might be due to neurosarcoidosis. However, before treatment is started, a careful exclusion of other diseases such as malignancy, vasculitis, tuberculosis, and fungal infection is necessary. If the patient presents first with neurologic symptoms, diagnosis might be difficult. Clinical features such as bilateral hilar adenopathy on chest radiograph, erythema nodosum, uveitis, and macular papular skin lesions are suggestive of sarcoidosis. Increased serum angiotensin converting enzyme and serum interleukin-2-receptor as well as bronchoalveolar lavage fluid lymphocytosis in the absence of an alternative condition might point to the right diagnosis.10–12 Sarcoid granulomas are found in nerve and muscle biopsy specimens. In nerve granulomas are mostly found in the epineurium and perineurium, whereas endoneurial infiltrates are less frequent. Granulomas tend to predominate around nerve blood vessels and are associated with a lymphocytic necrotizing vasculitis.7 Asymptomatic involvement of muscles is common and has been reported in 50% to 80% of patients,13 although the true incidence is not clear because muscle biopsy is not performed routinely. Symptomatic muscle involvement is found in only 1.4% to 2.3% of patients14 and may be difficult to distinguish from steroid induced myopathy.11
In our case, isolated peroneal neuropathy was due to compressive effect of a tumorous sarcoid granuloma above the fibula head. Exact clinical and electrophysiologic localization, as well as imaging of the knee, revealed the tumorous mass compressing the peroneal nerve. Biopsy of the tumor material showed noncaseating granulomas. Tumorous sarcoid granulomas are rare, especially in the peripheral nervous system. There are only a few case reports on tumorous granulomas in the skeletal muscle.15 Interestingly, the patient had no further symptoms, although muscle biopsy revealed profuse infiltration with granulomas.
In systemic sarcoidosis, nerve affection due to compression by sarcoid granulomas must be kept in mind as differential diagnosis to direct nerve affection.