EEG Event-Related Desynchronization (ERD) and Event-Related Synchronization (ERS)
Gert Pfurtscheller
Fernando H. Lopes Da Silva
EEG desynchronization or blocking of alpha band rhythms due to sensory processing or motor behavior was first reported by Berger (
1
), Jasper and Andrew (
2
), and Jasper and Penfield (
3
). This desynchronization reflects a decrease of oscillatory activity related to an internally or externally paced event and is known as event-related desynchronization (ERD) (
4
). The opposite, namely the increase of rhythmic activity, is termed event-related synchronization (ERS) (
5
). ERD and ERS are characterized by their fairly localized topography, phasic behavior, and frequency specificity. Both phenomena can be studied as functions of time and space (ERD/ERS maps). There is general agreement that EEG alpha desynchronization is a reliable correlate of the increased cellular excitability in thalamocortical systems during cortical information processing (
6
).
EVENT-RELATED POTENTIALS VERSUS EEG-INDUCED REACTIVITY
Two types of changes in the electrical activity of the cortex may occur on sensory stimulation: one change is time- and phase-locked (evoked) and can be extracted from the ongoing activity by simple linear methods such as averaging; the other is time-locked but not phase-locked (induced) and can only be extracted through some nonlinear methods such as envelope detection or power spectral analysis. Which mechanisms underlie these types of responses? The time- and phase-locked response can easily be understood in terms of the response of a quasi-stationary system to an external stimulus that can be accounted for, in a first approximation, by a process of addition of the evoked response to the ongoing activity of the neural networks, albeit the latter may undergo some degree of reorganization as well (see also discussion in
Chapter 44
). Whether or not this occurs is a matter of debate, but Mazaheri and Jensen (
7
) using a measure called phase-preservation index showed that the phase of alpha oscillations after a visual stimulus was the same as before the stimulus, which argues against a role of a phase-setting mechanism at least in this type of conditions. The induced changes can be understood as resulting from changes in the dynamic state of the neural networks. These changes can be due to a variety of factors; in particular they may depend on modulating influences arising from neurochemical brain systems, leading to changes in the strength of synaptic interactions, or affecting intrinsic membrane properties of the local neurons.
A typical example of the occurrence of both phase-locked (evoked) and non-phase-locked (induced) EEG activities is found with visual stimulation; induced EEG oscillations around 40 Hz are found in parallel with the phase-locked visual evoked potentials (VEPs) (
8
). Averaging over a number of EEG trials improves the signal-to-noise ratio of the VEP, but not of the oscillatory response.
QUANTIFICATION OF EEG REACTIVITY
The ERD/ERS can be quantified in time and space. For the quantification, a number of event-triggered EEG trials are necessary, including some seconds before and some seconds after the event (
Fig. 45.1
). The event can be externally paced (e.g., acoustical, visual, or somatosensory stimulation) or internally paced (e.g., voluntary finger movement). The procedure of processing, once the frequency band has been selected, includes the following steps: (i) bandpass filtering of each event-related trial, (ii) squaring of each amplitude sample to obtain power samples, (iii) averaging over all trials, and (iv) averaging over a small number of consecutive power samples to reduce the variance. An alternative method is based on the calculation of the intertrial variance (
9
,
10
). Absolute band power is converted into percentage power by defining the power within a reference interval as 100%. By convention, a power decrease corresponds to an ERD and a power increase to an ERS (
5
).
SELECTION OF EEG FREQUENCY BANDS
One way of defining the EEG frequency bands of interest is to search for the most reactive frequency components. This search involves the comparison of two 1-second power spectra to identify frequency bands showing statistically significant differences. The first 1-second power spectrum is calculated during the reference interval (i.e., during rest), while the second is calculated during the period of interest, for example, before movement onset to investigate pre-movement ERD, or after movement to investigate
post-movement beta ERS (
Fig. 45.2
). A frequency band with a significant power decrease is selected for ERD calculation (e.g., 8 to 12 Hz in
Fig. 45.2
), while a band with a significant power increase (e.g., 12 to 19 Hz in
Fig. 45.2
) is defined for ERS calculation (
13
,
14
and
15
). Theoretically, the frequency band can be defined for each derivation. In practice, a few derivations overlying the areas of interest—depending on the specific study being performed—are used to determine the frequency bands for all electrodes; for example, temporal and parietal electrodes are selected in a memory task and central electrodes in a movement study. Another method of frequency band selection can be applied specifically to subdivide the alpha band into sub-bands, as used by Klimesch et al. (
16
). The dominant alpha peak in the power spectrum calculated for the whole trial is first detected. The upper alpha band is then defined as consisting of the frequencies between this alpha peak frequency and the upper edge of the classically defined alpha band, while the lower alpha band is defined as those frequencies between the alpha peak frequency and the lower edge of the alpha band.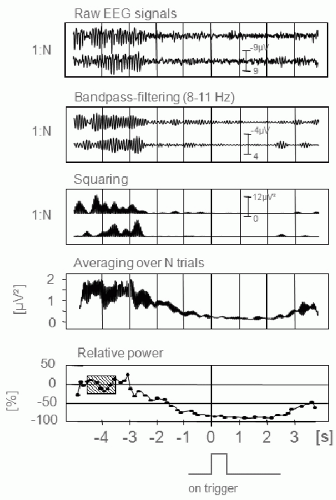 Figure 45.1
Schema for ERD processing showing an example of movement-related mu desynchronization. The raw EEG signals (0.5 to 50 Hz) are first bandpass filtered (8 to 12 Hz); thereafter, all samples are squared and averaged over all
N
trials. After averaging over consecutive power samples (compression) and specifying a reference interval (e.g., −3.5 to −4.5), the relative band power values are displayed. Power decrease corresponds to ERD.
To obtain a dynamic representation of changing activity within a broad frequency range, the calculation of time-frequency maps using bandpass filtering (
17
) (
Fig. 45.3
) and wavelet transformation (
5
,
18
) is recommended. A method with high time-frequency resolution is the matching pursuit with stochastic Gabor dictionaries as estimator for the signal's energy density (
19
).
EVENT-RELATED DESYNCHRONIZATION (ERD) AND EVENT-RELATED SYNCHRONIZATION IN ALPHA AND BETA BANDS
INTERPRETATION OF DESYNCHRONIZATION AND SYNCHRONIZATION IN THE ALPHA BAND