Intraoperative Evoked Potential Monitoring
Sensory evoked potentials (EPs) are the electrical signals produced by the nervous system in response to a sensory stimulus. Auditory, visual, and somatosensory EPs are used as diagnostic tests to noninvasively assess sensory pathways within the central and peripheral nervous system, as well as to assess patients for diseases of the ear and eye. Somatosensory evoked potentials (SEPs) and auditory evoked potentials (AEPs) have also found wide utility in intraoperative monitoring (IOM) to detect neural compromise during surgery, when the patient is anesthetized and a conventional neurologic examination cannot be performed. The anesthetic sensitivity of visual EPs limits their utility for IOM.
The central motor tracts can also be monitored by stimulating them rostrally and recording from either muscles or neural structures caudal to the part of the nervous system that is at risk. By analogy to sensory EPs, the signals that are recorded are typically called motor evoked potentials (MEPs). The brain can be stimulated either electrically or magnetically in order to elicit MEPs. As discussed in
Chapter 52
, MEPs to magnetic stimulation are difficult to record consistently in anesthetized patients during surgery; intraoperative MEP monitoring is therefore typically performed using transcranial electrical stimulation (TES) of the brain.
The EP modalities commonly used for IOM are described in this chapter. For the sensory EPs, the description includes the anatomical generators of the components that are useful for IOM. Recording techniques, assessment of the IOM data, causes of adverse EP changes, and typical intraoperative applications are described.
FACTORS COMMON TO MULTIPLE MODALITIES
Recording Techniques
Sensory EPs are in general too small to be seen in the raw data following a single stimulus. Signal averaging is therefore employed—multiple stimuli are delivered and the data epochs or sweeps recorded following the individual stimuli are averaged together, after rejecting those that contain large artifacts. Signal averaging (
Fig. 38.1
) improves the signal-to-noise ratio of the averaged EP waveforms by a factor equal to the square root of the number of sweeps included in the average (
1
). If the EP data are noisy and/or the EP amplitudes are small, the number of sweeps per average may have to be increased. Conversely, if the signal-to-noise ratio of the raw data is favorable, the number of sweeps per average can be decreased, allowing averages to be acquired more frequently and thus facilitating more rapid notification to the surgeons should adverse EP changes occur.
EPs should only be recorded to unilateral stimulation; if simultaneous bilateral stimulation were employed, the presence of a normal EP to stimulation of one side might prevent recognition of an abnormal or absent EP to stimulation of the other side. Modern EP recording systems permit interleaving of sensory stimuli (e.g., auditory stimuli are delivered alternately to the left and to the right ears). The data sweeps are then sorted (after artifact rejection) into separate left- and right-sided averages. Thus, even though left- and right-sided averages are acquired simultaneously, simultaneous bilateral stimulation is never actually delivered.
Assessment of IOM Data
Sensory EP amplitudes vary substantially across different subjects, whereas component latencies are much more consistent. Therefore, interpretation of extraoperative EP studies performed for diagnostic purposes is predominantly based on latencies (
2
,
3
). However, EP component amplitudes on repeated recordings in the same subject are usually quite consistent if the recording techniques are not altered. Moreover, if parts of the nervous system are compromised, amplitude changes may occur earlier than, or in the absence of, latency changes. Therefore, both the amplitudes and latencies should be assessed during IOM of SEPs and AEPs.
For extraoperative sensory EP studies performed for diagnostic purposes, the patient's signals are compared to those recorded in a control population of normal subjects. In order for this comparison to be valid, the techniques used and the state of the subjects must be identical in the patient's study and in the control studies. During IOM, the anesthetic regimen, the body temperature, the delivered stimulus intensity, and other factors will differ from patient to patient. Therefore, during IOM each patient serves as his or her own control; EPs recorded during the time when parts of the nervous system are at risk are compared to those recorded earlier during the same operation (
4
). If the anesthetic regimen or other factors that will affect the EP data are changed, the baseline amplitude and latency values should be reassessed.
Causes of Adverse EP Changes
AUDITORY EVOKED POTENTIALS
The earliest electrical signals recorded following a transient auditory stimulus are generated within the cochlea and are recorded as part of the electrocochleogram. The subsequent neurally generated signals have been divided into latency classes—short-latency AEPs, with latencies of under 10 msec; long-latency AEPs, with latencies over 50 msec; and middle-latency AEPs, with intermediate latencies. The long-latency AEPs are generated within cerebral cortex, including cortical association areas, and are profoundly affected by the degree to which the subject is attending to the auditory stimulus and extracting information from it. The long-latency AEPs are suppressed by surgical anesthesia, and thus are not useful for IOM.
Middle-latency AEPs are also generated within cerebral cortex, including primary auditory cortex and surrounding areas (
6
). They are also markedly affected by surgical anesthesia, which limits their utility for IOM to detect surgery-related focal neurologic dysfunction. However, this anesthetic sensitivity has led to attempts to use middle-latency AEPs as an indicator of the depth of anesthesia (
7
).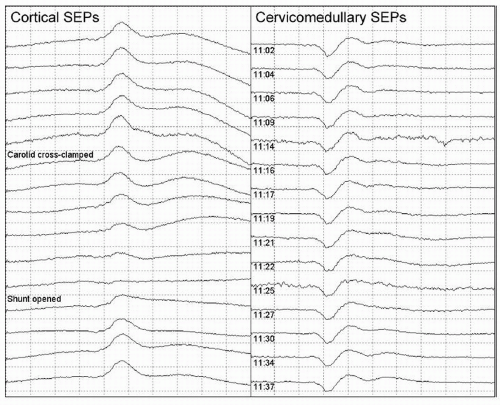 Figure 38.2
Consecutive SEP runs recorded to left median nerve stimulation during a right carotid endarterectomy in a 78-year-old man. There was a delayed attenuation of the cortical SEPs
(left)
following carotid cross-clamping. The surgeons were notified and placed a shunt; the SEPs then returned to baseline. The patient was unchanged neurologically after the surgery. The simultaneously recorded cervicomedullary SEPs
(right)
did not change, demonstrating that the left median nerve was still being stimulated and that afferent somatosensory activity was still reaching the level of the medulla. Vertical calibration: 3 µV/division. Horizontal calibration: 5 msec/division. In this and subsequent SEP figures, negativity at input 1 is plotted as an upward deflection.
The short-latency AEPs are the most useful AEPs for neurologic and otologic diagnosis because they are relatively easy to record and their waveforms and latencies are highly consistent across normal subjects (
8
). They are also useful for IOM because surgical anesthesia produces only minor changes in them (
5
,
9
,
10
); some of the intraoperative changes that are observed in them may be due more to changes in body temperature than to anesthetic effects (
11
,
12
and
13
). Although the earliest components are generated, at least in part, in the eighth nerve, most of the components are generated in the parts of the brainstem auditory pathways, and the short-latency AEPs are most commonly referred to as brainstem auditory evoked potentials (BAEPs).
Components, Generators, and Recording Electrode Locations