Figure 12-1 Sagittal T1 magnetic resonance imaging (MRI) scan of the brachial plexus showing infraclavicular mass encasing the brachial plexus (arrow), axillary vein marked with asterisk (top). Sagittal T1 MRI scan of the brachial plexus post-gadolinium showing necrosis of the mass (arrow) (bottom).
A right brachial plexus biopsy was performed. This revealed a large hypercellular mass with mitotic figures and minimal staining with S-100. There was no staining with desmin, keratin, neurofilament (NF), Melan A, collagen 4, or HMB-45. The findings were consistent with a high-grade malignant peripheral nerve sheath tumor (MPNST) (Fig. 12-2).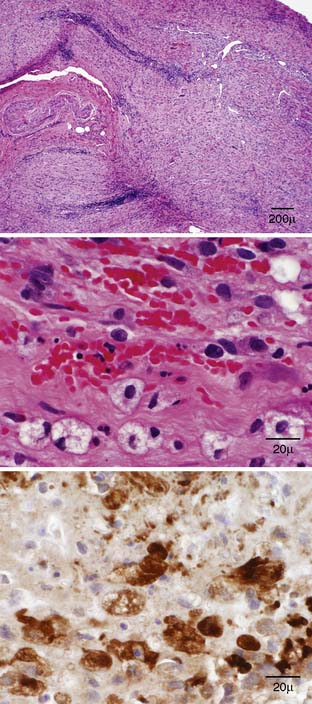 Figure 12-2 Brachial plexus biopsy: Hematoxylin & eosin sections (top and middle): severe disruption of nerve architecture by infiltrating tumor cells, with cellular atypia; S-100 section (lower): reactivity in the tumor mass indicating Schwann cell origin.
CONCLUSION
MPNSTs arise from a nonvascular component of the nerve sheath; the majority of these will show some degree of Schwann cell differentiation. At least one of the following criteria are required: that the tumor arises from within a peripheral nerve, that it arises from a benign or other malignant peripheral nerve tumor, that it occurs in a patient with neurofibromatosis type 1 (NF1) with characteristic histologic features, or that it occurs in a patient without NF 1 but has the histologic features of most malignant peripheral nerve sheath tumors and features of either Schwann cell or perineurial cell differentiation.1
A large series of 120 cases of MPNST showed a female predominance of 57%, with a mean age of 34 years at the time of diagnosis; 52% of these patients had NF1. For patients without NF1, the mean age of diagnosis was 39.7 years. In 11% of the patients, the MPNST was believed to represent a postradiation sarcoma, with a mean latency of 16.9 years from the time of radiation exposure. Most patients with MPNST presented with pain, an enlarging mass, and symptoms from peripheral nerve dysfunction, or a combination thereof. The most important prognostic factors affecting survival were presence of NF1, tumor size greater than 5 cm, and extent of resection. Patients who had total resection of a small tumor had significantly improved survival, with no difference between patients with large fully excised tumors and patients with small or large incompletely excised tumors. Treatment with radiation or chemotherapy did not significantly improve survival in this cohort.2 Total resection is often attempted, and a smaller study has shown that patients with residual disease postsurgically relapse sooner and die sooner than patients with complete resection of their tumors.3 Another study showed improved local control of disease with radiation in MPNST patients, but no effect on survival. Use of chemotherapy did not significantly improve local control of disease or survival in this cohort.4
The patient described had no personal history, family history, or skin findings to suggest a diagnosis of neurofibromatosis, and had no personal history of brachial plexus irradiation. This case is unusual in that the patient initially presented with paresthesias and then weakness, and pain, while severe, only developed later in the course. This is contrary to the often expected finding of initial predominant pain from tumor infiltration of nerve.