J. P. Mohr
John Pile-Spellman
INTRODUCTION
This chapter deals with a heterogeneous group of central nervous system (CNS) vascular lesions, including true vascular malformations such as arteriovenous malformations (AVMs) and cavernous malformations, acquired fistulas, vascular neoplasms, and other rare vascular disorders.
ARTERIOVENOUS VASCULAR MALFORMATIONS
AVMs are the most common of these rare disorders. They are thought to be congenital, arising in the prenatal period but do not present clinically until middle life. A few are caused by brain contusions which enlarge the normal tiny arteriovenous shunts. Although many remain static anomalies, others enlarge in size and proliferate in vascular complexity, driven by incompletely understood pathophysiologic forces, in animal models related to Notch4 dysgenetic effects.
EPIDEMIOLOGY
AVMs are rare, occurring with a prevalence of 18 per 100,000 individuals. Every year, about 1 out of every 100 people with an AVM will experience a hemorrhage. Current population studies indicate an incident discovery rate of 1.5 per 100,000. The majority of AVMs are thought to remain asymptomatic throughout life. AVM symptoms tend to occur early in life; two-thirds of AVMs become symptomatic before age 40 years.
PATHOBIOLOGY
AVMs are not neoplasms. Most of them are thought to arise in the prenatal period but not present clinically until middle life. A few are caused by brain contusions which enlarge the normal tiny arteriovenous shunts. Although many remain static anomalies, others enlarge in size and proliferate in vascular complexity, driven by incompletely understood pathophysiologic forces, in animal models related to Notch4 dysgenetic effects.
Whether congenital or acquired, AVMs are anatomically limited to the brain, spinal cord, or dura. Those embedded in the brain are most common. Lacking capillaries at the main site of linkage between the arteries and veins, the nidus is a tangle of irregularly sized vascular channels lacking the expected media of arteries, often so thin walled they barely satisfy criteria for veins. Their location varies widely; some limited to the surface of a cerebral hemisphere, fed by a single small artery and draining to the single small vein. At the opposite extreme, others form a huge wedge from the brain surface through the white matter to the ventricular wall (schizencephalic AVM); some so large they occupy a large portion of one hemisphere. A few lie in the subsurface white matter, others limited to deep structures (e.g., basal ganglia, thalamus), brain stem, or spinal cord. Those on the brain surface lying in the border zone between the major cerebral arteries typically have a higher incidence of seizures but a lower hemorrhage rate than those deeper in the brain. Collateral from the adjacent dura may occur. Those that penetrate to the ventricular wall often draw collaterals from the deep vasculature supplying the basal ganglia. Venous drainage may be by superficial or the deep venous systems.
CLINICAL FEATURES
AVMs present most often with bleeding, less often with headaches or seizures, and occasionally with progressive gait disturbance, focal neurologic deficit, or cognitive decline. When hemorrhage occurs, it affects the following regions: intracerebral (30%), subarachnoid (15%), intraventricular (30%), and various combinations (25%). AVMs are the second most identifiable cause of subarachnoid hemorrhage (SAH) after brain aneurysms, accounting for 5% of all cases of SAH.
The most feared complication of AVMs by far is hemorrhage. Yet compared with aneurysmal rupture, the morbidity of AVM hemorrhage is far less serious; some barely symptomatic, few devastating. The hemorrhage usually arises within the nidus and when limited in volume, displaces adjacent healthy brain with varying degrees of symptoms and signs. For those AVMs that drain to the ventricular wall, bleeding may originate from the venous aspect of the malformation and extend mainly into the ventricle, which presents as intraventricular hemorrhage with hydrocephalus and only minor injury to adjacent brain structures. Larger hemorrhages escape the nidus and dissect into healthy brain tissue like any primary brain hematoma. Arteries feeding the AVM nidus may develop flow-related aneurysms, which may bleed separately, typically causing SAH syndromes.
The risk of an unruptured AVM bleeding on average is closer to 1% than the previously quoted 4% per year. Death from the first hemorrhage ranges between 5% and 20%, depending primarily on the size of the hemorrhage and the presence of ventricular extension. When hemorrhage occurs, some destabilization of the fistula occurs, and it sets the stage for recurrent hemorrhage. Once a bleeding event has occurred, an AVM is more than 5 times more likely to bleed again during the first year, but recurrent hemorrhage occurs in 8% to 18% of patients annually over the next several years. Besides prior hemorrhage, important risk factors for bleeding from an AVM include deep location, small size, and a single draining vein.
AVMs are less often associated with seizures or headaches. No distinctive features separate either the seizures or the types of headache (including migraine) from non-AVM causes (
Figs. 41.1
,
41.2
,
41.3
).
DIAGNOSIS
The diagnosis of AVM is made by magnetic resonance imaging (MRI) (Chapter 21) and angiography (Chapter 24) (see
Fig. 41.1
), less easily by computed tomography (CT) scan and—unless calcified—scarcely even by plan skill films. These tests can be repeated to analyze a change in the size of the AVM, recent bleeding, or the
appearance of new lesions. Small or thrombosed AVMs, especially in the brain stem, are occasionally missed by arteriography but detected by MRI, which better demonstrates the relationship of the malformation to surrounding brain and identifies its nidus. If surgery is contemplated, conventional angiography is required to delineate the vascular supply. Dural and cervical spinal cord AVM should be kept in mind in patients with radiographically unexplained SAH, requiring examination of the external carotid arterial supply and cervical vertebral arteries.

FIGURE 41.1
Left parietal AVM. Anteroposterior
(A)
and lateral
(B)
subtraction films in the arterial phase of a left internal carotid injection show the anterior cerebral artery supply and early superficial venous drainage of a left parietal AVM. Coronal
(C)
and axial
(D)
T2-weighted magnetic resonance images of the same patient show a serpiginous pattern of signal void representing flow in vascular structures. (Courtesy of Drs. J. A. Bello and S. K. Hilal.)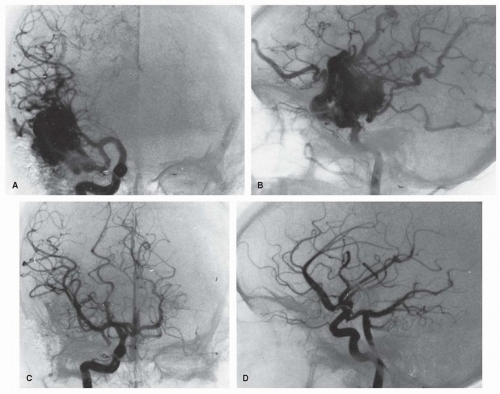 FIGURE 41.2
Right temporal AVM.
A:
Anteroposterior view from arterial phase of right internal carotid arteriogram shows a large enhancing vascular lesion in right temporal region supplied by enlarged branches of right middle cerebral artery.
B:
Lateral view demonstrates prominent early draining cortical veins emanating from AVM. Postembolization anteroposterior
(C)
and lateral
(D)
views of right internal carotid arteriogram show interval disappearance of right temporal AVM with multiple metallic coils seen within right middle cerebral arterial feeders. Note normal filling of both anterior and posterior cerebral arteries, thereby confirming increase in blood flow to normal brain structures. Patient did well after embolization with no complications. Follow-up definitive surgery found no evidence of flow within AVM, and the nidus was removed to prevent recurrence. (Courtesy of Drs. S. Chan and S. K. Hilal, Columbia University College of Physicians and Surgeons, New York, NY.)
TREATMENT
Treatment depends on the location of the AVM and the age and condition of the patient. Direct
microsurgical resection
,
endovascular glue embolization
, and
directed-beam radiation therapy
with a linear accelerator or Gamma Knife are the main treatment modalities.
With the advent of MRI, asymptomatic AVMs or those presenting only with headaches or seizures have become increasingly prevalent. The increasing discovery of these conditions before bleeding occurs long posed a management dilemma—whether to take risks of eradicating the lesion, embedded as it is in brain, or await the natural history of hemorrhage, hoping that if it occurs, it will not much damage the adjacent tissues. The recently completed A Randomized trial of Unruptured Brain AVMs (ARUBA) trial indicates that the safer course appears to be delaying intervention unless hemorrhage occurs [
Level 1
].
1
The
Spetzler-Martin grading scale
is used to stratify the risk of death or major complications from surgery (
Table 41.1
).
Decision making for intervention is complex and relies on clinical expertise, the specifics of the anatomy of the AVM, and the wishes of the patient. Surgery remains the most effective means of eradicating AVMs. For larger or more complex lesions, intravascular occlusive therapy using quick-acting glues can obliterate some AVM feeders, shrinking the malformation before surgery or radiation; it is occasionally curative as a single mode of therapy (see
Fig. 41.2
). For the deeply lying lesions not suitable for embolization or surgery, focused-beam radiotherapy (radiosurgery) is an alternative therapy. Complete eradication of an AVM is documented with loss of any evidence of early venous filling during the arterial phase of angiography. Despite complete eradication documented by angiogram, a small number of lesions recur.
Full access? Get Clinical Tree
Get Clinical Tree app for offline access