Short trunk
 Brachyolmia spondylodysplasia
Short appendicular skeleton
 Acromelic (short hand)
  Acromelic dysplasia
 Mesomelic (short forearm)
  Dyschondrosteosis (Leri Weill)
 Rhizomelic (short arm)
  Achondroplasia and related disorders
   Achondroplasia
   Hypochondroplasia
Short trunk and limb
 Spondyloepiphyseal dysplasia
 Kniest dysplasia
The following broad groups (Table
20.2
) are the conditions seen in a skeletal dysplasia clinic. Significant overlapping occurs within the group. Precise diagnosis is determined in consultation with an experienced geneticist.
Table 20.2
Relative common skeletal dysplasia groups
FGFR3 mutation
 Hypochondroplasia, achondroplasia, SADDAN (severe achondroplasia, developmental delay, acanthosis nigricans), thanatophoric dysplasia
Metatropic dysplasia group and SMED
Diastrophic dysplasia
Type 2 collagenopathies
 SED congenita, SEMD, Kniest dysplasia
Pseudoachondroplasia
Multiple epiphyseal dysplasia
Metaphyseal dysplasia
 Cartilage hair hypoplasia (McKusick), Schmidt, Jansen
Chondrodysplasia punctata
Dysostosis multiplex group
 Mucopolysaccharidoses
Mesomelic dysplasia
 Leri–Weil dyschondrosteosis
Dysplasia with predominant membrane bone involvement
 Cleidocranial dysplasia
Bent-bone dysplasia group
 Campomelic dysplasia
20.3

Spinal Problems in Skeletal Dysplasia

Spinal problems in skeletal dysplasia include instability, sagittal and coronal deformity, and stenosis. Some deformities are transient, for example, thoracolumbar kyphosis in achondroplasia which typically resolves at onset of ambulation and cervical kyphosis in diastrophic dysplasia. Cervical instability and stenosis in mucopolysaccharidoses is progressive that require early recognition and intervention to prevent or reverse neurological deterioration.
20.3.1

Base of Skull Abnormalities

Achondroplasia is a rhizomelic, disproportionate short statue with frontal bossing and mid-facial hypoplasia. In early life, they are at risk for hydrocephalus. Symptoms include irritability, lethargy, and vomiting. Head circumference measurement should be performed in reference to the normative chart of people with achondroplasia. Any upward crossing of the percentile would warrant further investigation with magnetic resonance imaging (MRI) scan of the brain. The defective endochondral ossification in patients with achondroplasia from the FGFR-3 mutation and early closure of synchondroses leads to foramen magnum and jugular foramen stenosis. It is thought that diminished jugular return due to jugular foramen stenosis results in hydrocephalus [

2

]. With growth, the risk diminished significantly. Management includes a ventriculoperitoneal shunt.

Platybasia literally means flattening of the skull base. It has been reported in patients with Kniest dysplasia [

3

] and cleidocranial dysostosis [

4

]. The sagittal relationship between the anterior and posterior fossa at the skull base (as measured by the base of skull angle, normal range <143°) pathologically widen. Indirectly, the relationship of the posterior fossa with upper cervical spine is altered as measured by clivus-canal angle (also known as craniovertebral angle, normal range 150–180°). Basilar invagination can ensue with the odontoid impinging on the ventral aspect of the cervicomedullary junction. In patients with cleidocranial dysostosis, the skull base angle is more likely to be wider than the normal population, possibly related to the abnormal flexure of the clivus, a midline structure that is malformed in conjunction with the clavicle and pubis [

5

].
20.3.2

Atlantoaxial-Occipital Complex Abnormalities
20.3.3

Subaxial Cervical Spine Abnormalities
20.3.3.1

Developmental Anatomy

The subaxial cervical spine develops differently from the upper cervical spine. The subaxial cervical spine derives from sclerotomes C3 to C8. Primary ossification centers of the centrum first appear in the lower cervical/upper thoracic region and progresses caudad-cranially to C3. The centrum unites with the neural arch by 3 years of age. They are usually wedge-shaped with some loss of lordosis until about the age of 8–10-year-old. Ossification of the apophyseal rings appears at 10–12 years and the rings are fused by skeletal maturity.
20.3.3.2

Subaxial Cervical Spine Kyphosis and Stenosis

Subaxial cervical spine kyphosis should be screened for in patients with diastrophic dysplasia and Larsen syndrome. Other skeletal dysplasias with cervical spine kyphosis include Kniest dysplasia, chondrodysplasia punctata, and campomelic dysplasia [

19

,

25

]. Rarely, Morquio syndrome may present with cervical kyphosis [

26

].

In mild cervical kyphosis, spinal alignment is altered without neurological consequence. With progression, the cervical kyphosis may result in instability with ventral cord impingement in flexion and relieved with extension. A significant deformity causes cervical stenosis in both flexion and extension. The progression of the deformity depends on the individual skeletal dysplasia and includes the magnitude of the deformity at presentation, the loss of anterior column support, the failure of facet and capsular restraints, associated posterior element deficiency, and the loss of the posterior tension band.

In diastrophic dysplasia, one-quarter of the patients have cervical kyphosis at birth. The kyphosis has its apex at C3 to C4, less commonly at C5 (Fig.

20.6

). With the preservation of lordosis at the caudad level, a S-shaped or swan-neck appearance is evident. The vertebral body at the apex is hypoplastic resulting in triangular or round shape, also termed "loss of four corner" [

27

]. Concurrent spinal bifida occulta is often present from C3 to upper thoracic spine [

28

]. Most of the cases resolved spontaneously by the age of 6 years. In the largest series to date [

27

], cervical kyphosis of more than 60° (Fig.

20.7

) at presentation had poor prognosis with either progression of the kyphosis or respiratory failure from associated severe tracheal and bronchiomalacia in early life.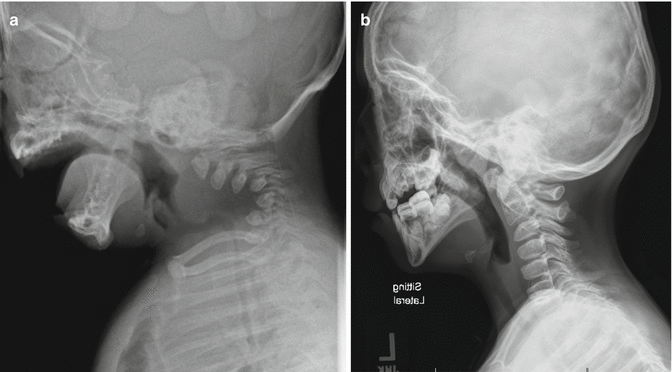 Premium Wordpress Themes by UFO Themes
WordPress theme by UFO themes